MACMILLAN'S NIGHT OF COLOURS FOR LITERATURE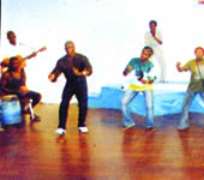 • Artistes on stage
With a sparkling set and a colourful backdrop, some of Nigeria's brightest stars mounted the stage recently at MUSON Centre in Lagos to raise new hopes for the country and its literati. It was an evening of fun, eulogies, promises and tributes, just as notable poets, novelists and dramatists had their works interpreted in diverse creative forms.
It was equally a night devoid of cultural barriers as Nigerians mingled with their counterparts from other countries to savour the aesthetic and didactic messages in the selected creative works.
A literary feast that was well served, the Macmillan night had the theme; Blazing Hope, featuring artistes in diverse genres, and reassuring guests that part of the mission of the project was to rebuild Nigeria through the literary/ cultural platform.
The opening speech by Mrs Francesca Emanuel, Vice Chairman of Macmillan Board of Directors reminded guests that one of the key objectives of the project was to highlight the role of writers in the onerous task of changing society for common good. Mrs Emanuel described the choice of Blazing Hope as this year's theme as a wake- up call on Nigerians to learn how to cooperate and use their talents/resources as sacrifices to achieve our collective noble aspirations.
In like manner, Mr Bode Emanuel, Chairman of the Macmillan Board reiterated his team's desire to use literature and the arts to combat the vices of society. While describing writers as visionaries and philosophers, the chairman also challenged the new generation of writers to emulate the likes of Professors Wole Soyinka, Chinua Achebe, T.M Aluko, Niyi Osundare and many others who have used their works to draw people's attention to societal problems.
Also while delivering Governor Babatunde Fashola's address, Barrister Olayinka Oladunjoye , Commissioner for Education in Lagos State said every Nigerian needs to cultivate the habit of reading and updating his or her knowledge of the society and environment through books. She noted that reading is not supposed to be four adults but for youths and children alike. Oladunjoye equally commended Macmillan as a corporate citizen for using the literary night to promote reading culture.
The performance segment which was anchored by Odia Ofeimun featured group and solo shows which came in the forms of dances, drama, music and poetry recitations. First on the line was Crown Troupe of Nigeria which presented a dance drama entitled It Is Time (O ti Ya). The performance expectedly employed music, drama and creative choreography to lament Nigeria's social milieu and in the end, urged everyone to start a new life by transforming the country in every facet of our lives.
Trailing Crown Troupe's show was Uduka Njoku's dramatic interpretation of Christopher Okigbo's Salute to the Master Builder. The evocative poem was reminiscent of the traditional Igbo society where sacrifices are made and homage duly paid to heroes and elders. Coming after this was Nollywood star, Norbert Young who recited the 'wise words' by the late Femi Fatoba in his poetry work, Petals of Thought. The show was closely followed by Joke Silva's reading of A Country of Low Expetations, a newspaper article Chido Onumah. The latter gave a sorry tale of Nigeria's woes and its message was well received owing to Silva's eloquent delivery of her lines.
It was the turn of Ihria Enakhimio to read from Odia Ofeimun's A Boiling Caracas and other Poems, and the latter's witty lines was again complemented by Norbert Young's baritone while interpreting Ayisha Osori's newspaper story entitled In Search of Courage. The next thriller was a medley of songs by multi-talented Ben Tomoloju and the Nefetiti sisters. The performance which saw artistes rendering songs in native Ilaje dialect gave the audience a refreshing dimension in cultural entertainment. The songs expectedly commented on Nigeria's social cultural and political lives.
Also thrilling guests in order of performance were Joke Silva's reading of lines from Amatoritsero Ede's The Parrot, Ihria Enakhimio from Pius Adesanmi's Message from Aso Rock; Tina Mba from Okinba Launko's Dream Seeker on Divining Chain, Ihria Enakhimio from Mabel Segun's short story, The Right to Develop; Jumoke Verissimo from her poem, Even If Night Comes, Norbert Young from Unoma Azua's Edible Bones, Tina Mba from Ogochukwu Promise's Blazing Hope and Joke Silva from Tanure Ojaide's When it No Longer Matters Where You Live. The evening of drama, comedy and words was rounded off by a Pan-Nigerian dance drama entitled Beyond Boundaries by both the Crown Troupe of Nigeria and Footprints of David.
On the significance of the literary project, Aremo Tope Babayemi of Different Aesthetics said 'We did promise to have a balanced and eventful show this year. Nd I'm sure we did not disappoint our audience . We are happy we had a night of relevant poetry recitations, reading of extracts from novels and biographers as well as from newspaper cuttings.'