DEMOLISHED FILLING STATION: PTD DEMANDS N320M FROM CHIME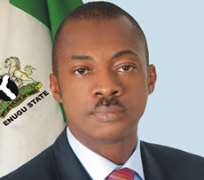 •Chime
The eastern zone of Petroleum Tanker Drivers (PTD) branch of NUPENG has demanded the sum of N320 million from the Enugu State Government to defray an estimated cost of the demolition of  Simeco Investment filling Station owned by one of its members in the state.
The PTD members from the region, who gathered in Enugu yesterday during a press conference addressed by the Eastern Zone Chairman, Chief Patrick Okwunwanne, said they were shocked when on November 4, men of the Enugu State Capital City Development Authority descended on the filling station located in the Coal Camp area of the state and reduced the station loaded with petroleum products to rubble.
According to Okwunwanne, the owner of the filling station was served with a notice to remove the structure on October 31 and was not given any reason for the action.
The chairman said the PTD members believed that Governor Sullivan Chime was not aware of the demolition, believing that it must have been the handiwork of the enemies of government, as well as those who did not like their members in the state.
'Governor Chime we know is a man of peace and tranquility and therefore, cannot support this unfortunate act. Therefore, we want him to look into the matter and pay us N320 million as cost of the demolition of the station and the products in it,' he said.
Okwunwanne disclosed that the Enugu State Government, NNPC, DPR, the police and other relevant agencies had approved the location of the station at Coal Camp and was, therefore, surprised when they asked the dealer to relocate.
He also said they had written a letter to Governor Chime, which they delivered to his office last Saturday, urging him to intervene in the matter.
The PTD chairman, therefore said they had given the government 21 days notice to respond to their demand after which they might be forced to resort to alternative action.
'If the government pushes us to the wall, we will bounce back. It was like they would not have given us the approval,' the chairman said, adding that they would not be held responsible if the fuel left underground the filling station caused danger as the pumps to dispense the products had been demolished.
All efforts made to reach the Commissioner for Enugu State Capital City Development Authority, Mr Iyke Ugwuegede, failed .