Jonathan Asks Senate To Approve N98b Virement As Senators Differ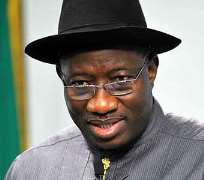 ABUJA, November 23, (THEWILL) - President Goodluck Jonathan just before he departed for France on Wednesday urged the Senate to approve a virement of N98,444,231,972 in respect of the 2011 Appropriation Act, barely a month to end of the 2011 fiscal year.
The request, which was contained in the President's communication to the Senate, is in respect of nine federal ministries -- Niger Delta Affairs, Federal Capital Territory, Agriculture and Rural Development, Education, Justice, Health, Aviation, Lands, Housing and Urban Development as well as police formations and commands.
The implication of the presidential request is that the National Assembly may extend the life span of the 2011 budget beyond December 31st.
THEWILL has however learnt that the request by President Jonathan for a virement may not have an easy ride in the National Assembly.
At today's session, Deputy Senate President Ike Ekweremadu had canvassed a good working relationship with the House of Representatives for the extension of the life span of the 2011 budget to next year.
Supporting Ekweremadu, Senate President David Mark saying, "even if the money is vired how can it be spent?" before directing the Senate joint committees to work on the proposed virement and report back to the Senate within one week in view of the fact that there are five weeks to the end of the year.
Also contributing to the debate, Senator Ahmed Lawan (ANPP, Yobe North) said, " We need to know clearly or establish where the money is coming from and where is it going", saying close to N8 billion meant for social services was being vired to contingencies.
In her contribution, Senator Chris Anyanwu (APGA, Imo East) asked, "if you take money meant for poverty alleviation where are you taking it to?"
Other Senators who questioned the timing of the virement urged the Senate Committee where it would be referred to be cautious and ensure that money meant for critical ministries were not vired saying that will at the end of the day cripple the ministry, even as some of the Senators completely opposed to the proposal.