MERCY JOHNSON MOVES INTO BOYFRIEND'S HOUSE IN OMOLE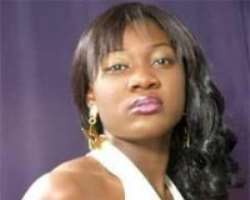 Talking about one actress whose name is synonymous to controversy, the name Mercy Johnson will readily come to mind. Her many bad habits which include bed-hopping, abortion, stealing, lies and others have become incurable epidemics that may take only heaven to cure if what we gather about her is anything to be considered.
It was recently rumoured that Mercy aborted a three months old pregnancy for a certain Omole-Estate Lagos based lover called Odi, the report was denied vehemently by the Nollywood diva as purported attempt to dent her image. Sources within Omole have just whispered to us that Mercy, having decided to evacuate her property from Tricia Eseigbe's Lekki home, due to small misunderstanding between them, she has now moved into Odi's house in Omole where she now operates from.
Information at our disposal also reveals that Mercy has been finding things so difficult these past months about the many negative reports about her person. Most of these reports, according to a very close friend of the man she was alleged to have stolen some hard currencies from a couple of months back, "Mercy herself is her problem. If they say you're a thief, you don't play with another person's toys.
She loves controversies because she believes without such controversies producers won't want to call her for a job." The source told us via telephone. Well, what is actually good for goose may not be the best thing for gander as the bad reports on Mercy has cost her, her privacy amongst others.
If there is anything Mercy is fighting very hard to do is to redeem her dented image as I am told that she now gives out some branded exercise books to some students courtesy her foundation.
Anytime Mercy is not on location working or with her Abuja based lover who held a party for her recently at the Basement Club Abuja be sure of getting her at the Odi's House in Omole, Lagos.while friends of Odi are of the opinion that Mercy is not the best choice for thier friend, some of them still go behind to woo the girl. meanwhile, some close relatives of Mercy who met her recently were said to have registered their dissapointment when they discovered that their brother's girlfriend, a screen idol for that matter has a very bad skin
Story by Henry Bright