Tales of failed marriages in Nollywood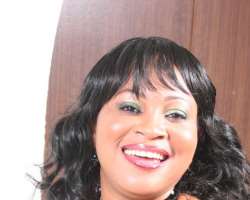 Divorce among Nollywood actresses is becoming a daily occurrence. As it is, hardly any day passes without the news of one failed marriage involving one notable Nollywood actress or the other. The rate is become so alarming that people are wondering if there is anything wrong with actors and actresses.
Many factors have been identified as being responsible for this development.
Bukky Wright, a budding actress, reportedly said that these marriages crash because Nigerian men lack confidence, especially to manage successful women.
Whatever is the case, the list is increasing. Such actresses as Eucharia Anunobi, Bukky Wright, Monalisa Chinda, Chiege Alisigwe, Fathia Balogun, Clarion Chukwurah, Shan George, Regina Askia, Obot Etuk, Stephanie Okereke, Ngozi Nwosu, Ann Njemanze, Ibinabo Fiberesima and Sandra Achums, are among those whose marriages have crashed.
Eucharia Anunobi
Her marriage to Charles Ekwu looked like one made in heaven. The then couple was so much in love, in the beginning that their marriage was the envy of many. Tales are told of how they would hold hands and kiss during night outing at Ajao Estate in Lagos, in expression of love. However, the cookies just crumbled. Eucharia accused the husband of constant battering. She was reported to have admitted marrying her man out of infatuation. Her ex-husband was said to have dumped his matrimonial home in 2007, and in the process, also abandoned his child.
Fathia Balogun
The delectable Yoruba movie actress has twice married and divorced. Before she married Saheed Balogun, a fellow Yoruba movie actor, Fathia was once married to Tunde Anchor and the marriage produce a son. After her first marriage collapsed, she met and married Balogun. The marriage also hit the rocks. The former couple made frantic efforts to come back together as husband and wife, which proved abortive. Fathia was even said to have dedicated an award she won in the United Kingdom to her former husband and enlisted top Yoruba actors, like Jide Kosoko, to plead her cause. However, Saheed has remained adamant, insisting that their union had ended. He has since moved on with his life and married another wife.
Shan George
Shan George got married at the tender age of 15, and after bearing two kids walked out of the union at 21. She allegedly pulled out because her husband did not send her to school, but rather turned her to punching bag. When marriage crashed, she went back to school and after her graduation, from the University of Lagos at the age of 29, she got married the second time. However, that too was short lived. Last year, she was reported as saying that she deserted her matrimonial home because she was not ready for a servant/master relationship.
Meanwhile, she has grown up kids from her first marriage, who are based in the United Kingdom with her first husband.
Clarion Chukwurah
Clarion Chukwurah came into limelight in 1984 when she starred in the now defunct popular soap, Mirror in the Sun. She is one of the best Nollywood actresses and has appeared in several stage productions, soap operas and over 74 home videos. Her Non-Governmental Organization, Clarion Chukwurah Initiative, is geared towards touching the lives of the underprivileged in the country. Chukwurah has been married twice, one of which was into the the late Moshood Abiola family. Later she became Mrs. Oduneye. She now bears her maiden name. In all, she has five children, two biological children and three adopted ones.
She said that marriage is a fusion of two minds on the platform of joyful co-existence and, therefore, one can walk out and the two parties remain friends instead of living in misery. However, it is reported that she is friendly with the fathers of her babies.
Monalisa Chinda
The crash of Monalisa Chinda's marriage is the latest in Nollywood. In a statement by her lawyer, Mr. Festus Keyamo, Monalisa said her marriage to Segun Dejo-Richards, an artist manager, broke down due to irreconcilable differences. It was believed that this incompatibility led them to disagree on many issues. At the end, they could not manage the situation, which led to the crash of the five-year-old marriage. This came as a surprise to many Nigerians, especially as Monalisa, on several occasions, vowed that nothing could separate her from her husband. Indeed, before the marriage broke down, Monalisa had described her husband as God-sent. The marriage is blessed with a child, Tamar Kirejesu.
However, Monalisa's husband expressed surprise at what could be called sacked letter from his wife. He attributed the crash of the marriage to bad advisers. However, he denied the allegation that he physically assaulted his wife. He also denied that his break-up with the wife was caused by the N10 million Glo Ambassador endorsement deal Monalisa got recently.
Ayo Adesanya
Ayo Adesanya, one of the notable Nollywood actresses, reported packed out of her matrimonial home owing to irreconcilable difference with her husband, Goriola Hassan. In order not to die in frustration, the actress decided to call it a quit. Ayo has since moved on with her life and now having a good time with an Abuja-based contractor, Tunde, who met at a party. A graduate of the University of Ibadan, she shot into limelight with the movie Out of Bounds.
Foluke Daramola
She was married to Mr. Shobowale for four years and the marriage was blessed with two children. In an interview with a national newspaper, Daramola said there were frequent crises in the home, to the extent that the condition became traumatic to her children. She packed out about a year ago and has not filed for divorce. She said that she had endured, believing that it would be in the interest of the children, but that she later discovered the continuation of the marriage would be to the detriment of the kids.
The actress is not willing to go back to her husband's house neither is she thinking of divorcing him.
Ann Njemanze
Her marriage to Segun Arinze crashed as soon as it was contracted. Shortly after the marriage hit the rocks, she was involved in a car crash, about eight years ago and was bed-ridden for a while. She could not walk for two years. Though she would want to go into another marriage, she was reported to have said that she would be very careful this time. However, she still relates with her former husband, as their marriage produced a child. She had wished she listened to her parents and waited much longer before jumping into marriage. She is now a single parent. After she recovered from the car crash, she went back to school to study Visual Art at the University of Lagos.
Stephanie Okereke
Stephanie's marriage to a former Super Eagles player, Chikelu Iloenyosi, is another story of failed marriage. The top actress sought the dissolution of the marriage on the grounds that her ex-husband had extra-marital affairs. Stephanie said she had no regret whatsoever that the marriage crashed. She is quoted as saying that she is a better person now than when she was in marriage.
Sandra Achums
Sandra Achums was married to an Amakohia, Owerri man who was living abroad. The marriage crashed as soon as it started. The marriage would have produced a child but the baby died during delivery. Sandra has two children for two different men.
Ibinabo Fiberesima
The Rivers State-born actress, who was recently convicted for killing a medical doctor in a car crash, has her own share of failed relationship. Her affairs with Phillip Trimnell and top singer Daniel Wilson were widely celebrated on the pages of newspapers.
Recently, it was alleged that Ibinabo and ace actor, Fred Amata, are having an affair. Her two failed marriages produced two children from the two ex-husbands.
Bukky Wright
This popular face in TV soaps and home videos has been in and out of marriage twice. Perhaps, owing to bitter experience, the Economics graduate was reported to have said that marriage was no longer in her dictionary. She did not lament over what could have been her mistakes. Rather, she sees the experience as an eye-opener. However, the beautiful actress has moved on with her life, while hoping to get married again.
Chiege Alisigwe
She came into limelight in 1998 when she played a role in the movie called Igodo. Her marriage crumbled as soon as it was contracted in 2002. Chiege attributed her failed marriage to incompatibility. She was reported to have admitted that she was naive when the union was contracted. Chiege was heavy with three-month pregnancy before their union crumbled. And since then, the Orlu, Imo State-born actress has picked up the broken pieces of her life and moved on.
In the meantime, Chiege has not ruled out remarrying, provided the right man comes her way.
Ngozi Nwosu
Ngozi Egonu came into limelight when she played Ego in the popular home video, Living In Bondage. She is also popular with Fuji House of Commotion. Ngozi was married to one Mr. Huessnon from Badagry, but the marriage was not sustained.
Story by http://nollywoodgists.com