SULTRY ACTRESS, MERCY JOHNSON'S MESSY LIFESTYLE EXPOSED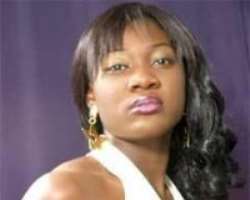 She's very talented and has a good command of English language which she uses to interpreter her scripts; but while many of her fans are given great compliments about her artistic prowess, the actress, Mercy Johnson does not, in any way, give a hoot about the kind of life she lives.
The controversial actress was recently enmeshed in a Juju and abortion scandal, the story which was syndicated by some authorities was later denied by the sultry actress, Mercy, despite all the facts and figure tabled in the story. Close source informed this office that Mercy Johnson has become a subject of ridicule amongst her co-actresses due to her recklessness which often rubs off on her image. And this, we learnt, has made a lot of her friends and colleagues keep an arm's-length so as not to share from the discoloration.
Initially, it was rumoured that Mercy Johnson's rise to the top and unprecedented success might have caused the feeling of hostility and resentment shown to her by friends, folks and foes but it was later gathered that Mercy herself is one character that is filled with all sort of deceits.
If you can recall that a certain fight ensued between Uche Jombo and Ini Edo a couple of months back, the two actresses, we authoritatively gathered, almost reached for each other's jugular. Those who are very close to these Nollywood divas said they were keeping malice till they both were called as ambassadors for the Globacom 'windfall' before the 'dark angel' behind their fisticuffs now came to the open and Mercy Johnson was fingered as the brain behind it.
After that event, Ini Edo and Uche Jombo settled their differences and the self-acclaimed sexiest Nollywood actress, Mercy is now seen as the 'devil advocate' which has to be totally avoided.
Before this time, however, Uche Jumbo and Tricia Eseigbe who used to be super pals of Mercy, though, they are her senior colleagues, we learnt, called upon Mercy to give a word of advice as per her messy lifestyle ranging from sleeping around, abortion, Juju and what have you but instead of listening to the words of elders, inside source revealed that, she was fiercely raged and started passing insults to her big 'sisters'.
"Since that time, I have not seen Aunty Mercy around here and things have not really been the same since the day she walked out of them." A very close source of one of the Glo Ambassadors disclosed.
A couple of weeks ago, a certain reporter wrongly alleged Tricia Eseigbe to have received the sum of $5,000 from one Tunde Akinyera, a personal assistant to Otumba Mike Adenuga Jr. but the story, according to new findings, actually happened to Mercy Johnson who was led by a pimp to have an amorous affair with the big boy who lives inside Osborne Estate in Ikoyi area of Lagos.
Aside the Tunde Akinyera that she met, her pimp, we reliably gathered, also got her another big boy who resides inside Park View Estate, Ikoyi whose name was not made available to us before we filed this report but as soon as we get the name, we shall bring it into view.
Inadvertently, the supposed to be role model to this generation and next and someone whose primary duty is to carry out a role intending to entertain and educate the public is now viewed with all sort of dirty habits. What then will now become of these younger generations who are fed with these nasty reports about their mentors or role models? The story still continues
by Jagger Malik