NIGERIA: DJ QUEEN PIN RE-BRANDS ACT OF DISC JOCKEYING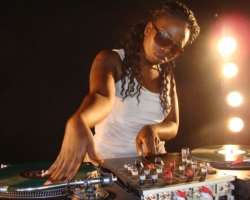 In the industry believed to be highly dominated by male masculinity in Nigeria, one lady who has proven to the entire lovers of the Nigeria's fast-rising entertainment industry that what a man can do a woman can equally do better is Queen Pin. The music industry has become a haven of pleasure to this Naija most anticipating DJ who has come to put the record straight and to give the menfolks a run for their money in the Disc Jockeying environment.
Her real name is Olufunmi Jasmine Akinyanju but in the entertainment world she's known as Queen Pin, a name she got during one of her days as a Chess game player. Interestingly, this black and strong gifted DJ who is gradually becoming relevance face to reckon with is making in grand effort to change the notion of top players in the industry who believe that the wheels of steel is meant for the male gender alone. In the light of this, the beautiful artiste is clamouring for a change and also supporting the course of women who are ready to embrace this act of disc jockeying.
"Before I fell in love with Disc Jockeying, I was always inspired by the artistic ability of people like DJ K-Slay, an international artiste like that. I was fascinated by his drive and the manner he carries his audience along. So, when the opportunity came to come into the industry last year, I didn't hesitate to become a DJ because that's where I want to stay and showcase my talent." Queen Pin stated.
Though, it's about a year that this former undergraduate of the University of Abuja ventured into this esoteric business of Disc Jockeying, her record of accomplishment within that short time is awesome as she has displayed her talent at concerts, eevents and nightclubs, to mention but a few are, Jades Palace, Adeola Odekun, Reloaded, Trick's Nightclubs tucked somewhere around the Shoprite Mall, Lekki, all on Lagos Island.
You may now wonder how she has managed to scale through the huddles of intimidation from the men folks, the native of Awe in Oyo State but Lagos born DJ said she was only mindful of her ability and was not bothered about the noise around characterized by the pull-her-down-syndrome. Hear her "change is what I am concerned about. Right now, I am getting my priority right, making a mix-tape that will stand the test of time and be applauded in the industry as the first ever female DJ in Nigeria to score such feats. That's my aspiration and until I get to that level, I am still gonna continue to give my best." She concluded.