N1.5T Subsidy Probe: Senate Panel Invites EFCC, ICPC To Observe Hearing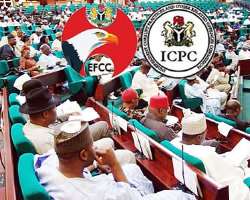 ABUJA, November 21, (THEWILL) - The Senate committee on Petroleum (Downstream) has invited the Economic and Financial Crime Commission (EFCC) and the Independent Corrupt Practices Commission (ICPC) to observe and probably be on standby during the public hearing on the management of the N1.5trillion subsidy fund.
The hearing commences Tuesday.
Chairman of the Senate Joint Committee on Petroleum (Downstream); Appropriation; and Finance coordinating the fuel subsidy probe, Senator Magnus Abe (PDP, Rivers) disclosed to journalists at the end of the committee's meeting today that the invitation of the anti-corruption agencies to observe the public hearing was merely procedural, adding "nobody is up for arrest."
Abe informed that all relevant parties and stakeholders in the management of the fuel subsidy are expected to make presentations at the public hearing which will take place at Senate Meeting Room 022.
The committee he stated has invited the Minister of Finance, Dr. Ngozi Okonjo-Iweala, her Petroleum Resources counterpart, Mrs. Diezani Alison-Madueke, the Executive Secretary of the Petroleum Products Pricing Regulatory Agency (PPPRA), and Governor of the Central Bank of Nigeria (CBN), Mallam Lamido Sanusi to the public hearing.
Also invited is a former Minister of Finance, who now heads the Trade and Investment Ministry, Mr. Olusegun Aganga as well as the former Chairman of the PPPRA, Mr. Rasheed Gbadamosi.
Abe told newsmen that petroleum product importers as well as the beneficiaries of the government subsidy regime have also been invited to the public hearing "to explain how they got into the fuel subsidy fray."
He pointed out that a lot of the people who participated in the subsidy arrangement lacked the competence but said, "The committee won't pre-empt and pre-judge the outcome of the investigation."
Abe however, promised that the Senate was determined to conduct an open and fair investigation, saying, "As much as possible, we will be open to all Nigerians."