MY UNFULFILLED DREAMS AS OYO GOVERNOR-JEMIBEWON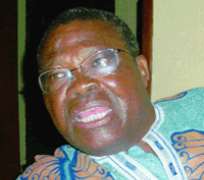 • Jemibewon
As a former military governor of the old Oyo State and Minister of Police Affairs, Gen David Jemibewon does not need any further introduction. He has seen it all both in his career and public service. In this interview, he speaks on various national issues and recalls how some shared responsibilities between the centre and the constituent units prevented his administration from achieving some of his lofty dreams for Oyo State. Excerpts…
Security is today a major concern of every Nigerian. As a former Minister of Police Affairs, what do you think is the way out of the present security challenge facing the country?
There have always been security challenges; there is security challenge at present and there will always be security challenges. I think what is happening is that the citizens are not giving sufficient support to the police. Police can only act on information available to them. ||hose who commit crime in whatever form; whether it is murder, fraud or whatever the nature of crime, it is generally committed by human beings and these human beings live within the society.
And in most cases, they are well known to members of the society. Police cannot be everywhere all the time. So, to be able to prevent crimes being committed, police must have information so as to abort the possibility of committing crimes. Even when a crime had been committed and the person who committed the crime had disappeared from the scene of the crime, he probably would be living within a group of people. For the police to be able to apprehend the person who committed that crime, it is the responsibility of the people in the society to give information to the police. Also, some times, before a crime is committed, if you see a person behaving in a manner to suggest that he is likely to commit crime, it is important that the police are informed of the probability of the crime being committed. This is very important at all times.
One other important thing is that the police must be well trained and equipped with materials that can help them to identify and prosecute criminals. In other words, the police must be mobile so as to be able to catch up with criminals who are on the run. Police must have good equipment for communications to be able to pass information from one part of the country to the other which can help in arresting those who have already committed crime or are likely to commit crime. Basically, what I am saying is that the society must be ready to give support to the police and equip them well. Equipment is even a major issue because for them to detect criminals, they would have laboratories to carry out test on some of the exhibits. The summary is that police must be well equipped.
During your tenure as a minister of Police Affairs, you made some efforts to bring about a change in the force. To what extent would you say your effort has yielded a positive change?
Change is a process you might not see the effect within a short space of time. There were attempts for positive change or changes before I got there. And, of course, when I got there, I made efforts at some changes. And I want to believe that those who followed us must have made some efforts at some changes as well. Change is a continuous exercise. I cannot claim and I wouldn't want to claim whatever improvements that have been in the police now. It will be immodest to claim that it was through the efforts I made.
It is a joint effort of those who have had the privilege of being in that position. Even those who operate the police system strive on a daily basis to improve the operation of the police. So, it is not just the minister, it is not just the civil servants, but the police itself because if you work in an establishment, I am sure, it will gladden your heart to hear people praise that establishment.
Though the efforts I made were appreciated, I want to believe that they will continue to work on those efforts. And I am sure the police are doing reasonably well. But the police job really is never finished. There is nowhere in the country the police have done so well that they have dissolved that establishment because as one crime is being detected, prevented or prosecuted, so other crimes are being committed or planned. It is a reflection of the fact government's job is never finished. Government is a continuous process. So, I wouldn't claim that it was only when I was there that there was marked changes, though we did our best. For example, there were only eight zonal commands when I got there and I took it to 12. And, of course, within the few years I spent, we increased the number of policemen through training and retraining. And we provided them with more equipment to make them more effective.
What is your take on the agitation for state police?
It is a stale story. I left office in 1978. And within few months after that, I wrote a book which I titled: 'A Combatant in Government'. In that book, I put it there that it is my view that there should be state police. However, I put a rider there that if people would oppose state police because of possibility of misuse, then my view is that Nigeria police should be broken into zones. At that time, there were no zones. So, you can see that there are people who can think ahead in this country.
Luckily, during the time of Gen Ibrahim Babangida, Nigeria police was zoned into eight. However, because there are 36 states now and if every state is to have state police, it means that there will be 37 police forces in Nigeria. That may be unwieldy. The 37th will be federal police. Therefore, what I will advocate now is zonal police command. This is more so now that we have six geo-political zones in the country. And in doing so, we must ensure that the police officers in each zone are people who are domiciled there.
What I mean, for instance, is that if you have western police command, it must be made up of people who are residents in the western zone of the country. And you will agree with me that it is not only Yoruba who are living in the western zone. The same thing in the eastern zone, it must be people who are residents there. What it simply means is that there will still be federal police in addition to six zonal commands. If anything happens, for example, in North West and the situation is so bad that you have to bring some policemen from other places, they will just decide which zone should contribute to that zone to deal with the situation.
It is just like the United Nations normally requests for police from member nations to curtail problems in any particular country. Nigeria police was in Congo for several years and even ended up training Congolese police. If it could be done under the UN, there is no reason you cannot have zonal police in which case even the fear being expressed today may not be there. We may, however, have a single Inspector General of Police and Deputy Inspector General in each geo-political zone. This is my own new idea.
There is this argument that if the position of Inspector General of Police is made elective, the police will be more independent. Do you subscribe to this view?
I know Nigeria is full of experiment. Any advocate of that idea should tell us the country where that type of thing has taken place. The moment you start voting for Inspector General of Police, you are politicizing it. I don't think that is the best. Anybody proposing that should convince me and mention a few countries where similar situation had been in operation. I wrote a book- 'The Nigeria police: Issues, problems and Prospects'. In the book, I sited no less than six police commands from various parts of the world as basis for comparison. So, those who are advocating that IGP should be elective should do us a favour by telling us a few countries where that had been practiced. But I am not in support.
How do you think the idea of community policing which has now become a vogue around the world can be strengthened for better performance bearing in mind the hostile relationship that currently exists between the alienated public and the police themselves?
I don't want to go into two much detail. I introduced the community policing to the Nigeria police. It wasn't there before. Community policing is more than the impression you are trying to create now by saying that people should give them information. Community policing actually involves a process by which people can ascertain which police officer is assigned to a particular area. We should be able to know who he is and he too should be able to know by name the head of every family or household.
And he should be involved in almost all their social activities. He is seen as part of that society. In that manner, if a visitor comes in, under 24 hours, he will know that this is a stranger. He virtually will know everybody such that even before a crime is committed, there are already people they will suspect because they would have known the pattern and character of everybody within that society. So, it baffles me when I hear people saying they are launching community policing. There is nothing to launch. If your son is going to school and you know it is your responsibility to train that child, are you going to celebrate enrolment of your child?
It is like some of these politicians talking of dividends of democracy. Should it really be celebrated? What for? You said you wanted to develop the society that is why you were elected in the first place. The money you are spending is not your personal money. So, what is the dividend? When you say dividends of democracy, it should be a normal thing. And it does not need to be celebrated. Tell me, what dividend have you received from wherever you are resident or you claim is your state? You make three or four boreholes and you say that is dividend of democracy. Have you read about dividends of democracy in America, Britain or Germany? It is only here we have dividends of democracy.
What would it have been in the first place?
Let me take you a little to Kogi State. How do you see the preparation towards the December 3 governorship election?
How do you mean?
I mean preparation in terms of which candidate you are supporting for the election.
Of course, I am in PDP. And when you want certain things to happen in a particular way but did not and you have not backed out from an organization you profess to belong to, even when you are not happy, you don't want to be labelled as a saboteur. That is to say when you are faced with a situation you cannot change, you go along hoping that through God's intervention, one time, one day, things would go right. It is on the basis of this that certain people even when they are not happy, they still go along. So, I am in PDP and PDP has come up with a candidate. How the candidate emerged might not have been the best process. But having settled for a candidate, as a loyal party member, I cannot in the circumstance vote for a party that opposes my party.
Even with the reservation I made, the governorship candidate of my party and his running mate constitute a very good team. The governorship candidate is a captain, a pilot of an airline. While a man can fool around on the ground, he cannot fool around in the air. So, it means the man must be intelligent, calculative and patient. His running mate is an architect. And an architect is not just only building, he also designs.
The seat in your car has to be designed by an architect. The car itself is designed by an architect. So, an architect is a man who is patient, painstaking and intelligent. When you have these two combinations, then, there is hope for those of us who come from there. And I am sure they are not likely to dash our hope. Based on the quality that I associate with this team put forward by the PDP, no other party can produce or has produced that same quality. So, with that, there is great hope.
There is a lot of controversy about the process that led to the emergence of the PDP candidate. How do you see transparency of the process?
I don't want to go to that because the answer I gave to you before this your question embodies my view on the process. I alluded to that and I said it is all settled now because we have gone beyond that stage.
I still needed to ask the question because a particular aspirant who felt shortchanged with the process is still claiming to be the authentic candidate of the party.
I don't understand what you mean by that. I have answered your question. Who are those shortchanged? In politics, there will always be problems. But the way I have answered your question is the way I want to put it. Ordinarily, those who have lost and there is no way they would not have lost will complain. But we have gone beyond that. I don't belong to any other party other than PDP. So, even when one doesn't feel too happy about the process of how the candidate emerged, I believe that we have gone beyond that now. And the quality of the candidate is such that there is a great hope. And like I said before, no other political party has come up with a better quality.
Do you still have any political ambition for the future?
What do you mean by ambition? I am just a member of the PDP. I am 72 years old; so, what could be my ambition other than to pray that this country should be better so that my children and my children's children would be able to live a comfortable life.
But you really don't look your age. What is the secret of that vibrant look?
There is no secret but God's work. I didn't make myself. And of course, I know those who were born at the time I was born but look much older than the way I look and who don't look healthy enough. I am sure it is not their own making too. I know people who lived up to 90 years.
As a matter of fact, my mother is still alive. And there were people who were much younger than I but had died. It is also not their making; it is God's making. So, if there is any magic about my good health, it is God's magic and not my making. Then, of course, there is a saying that Heaven helps those who help themselves. If you are into a little bit of exercise and you don't do things in excess, and you know your personal constitution; you know what your body wants and what it rejects, chances are that you live a healthy life. But all in all, it is God's work.
Could you still recall your days as military Governor of the old Oyo State? If you have another opportunity to govern that state again, what would you like to see done?
That is a very good question. But in a situation like this, one has to be very careful; otherwise, you create problem for whosoever is there now. It is either you make him happy or you make him feel sad. So, if there is that possibility, far remote anyway, I will make sure that a few things that I had conceived during my tenure which some people felt weren't necessary at that time are done.
For example, when I wanted to convince the government to let us dualise the ring road in Ibadan, one of the commissioners who I respect very much and who at later stage headed economic ministry said we didn't need to dualise it because it was Federal Government road. My view was that even if it was Federal Government road, 90 percent of those who use the road are residents in Ibadan. And, therefore, we should dualise it. Though we finally dualised it but we just did what I consider as phase one of the project.
And it has not gone beyond that phase one till today. I was confused as to what to do; that was why it stopped at phase one. If you start the ring road from Ijebu axis towards Abeokuta road, my idea then was that we should have a tunnel under a railway line or an overhead bridge over the railway line such that the double carriage way would have gone round through Ibadan Water Works to the Polytechnics as well as the University of Ibadan. The only reason we didn't do that was because railway was federal. So, I didn't know what decision to take. If the road had been constructed, it would have decongested heavy traffic situation you normally encounter in Ibadan.
You will also note that the Federal Government dual carriage way coming from Lagos hits Ibadan/Oyo road at an angle of almost 90 degrees. I went to the Head of State then to explain the danger involved at the manner that expressway terminated at Ojoo junction. I knew it was an accident zone. I thought an overhead bridge should have been constructed there so that the oncoming vehicles wouldn't need to stop for those heading towards the town from Oyo axis. If I have the opportunity to govern the state again, these will be my top priorities. Also, I felt we should move the prison from where it is now away from the town. And the place I was going to move it is the present Dugbe Market along Iwo road built by Bola Ige.
That was where I earmarked the prison should move to. And I think that was why they immediately built Dugbe market there. I didn't think there ought to be a market in that place because it is the centre of the town and in most cities in Nigeria, our markets are right on the highways. And that is why so many people are killed when these trailers lose control and ram into human beings. Again, I tried to advocate the idea of zoning development of Oyo State. I looked at Oyo North as agricultural zone so that we could concentrate all our efforts towards that area on agriculture. And I looked at Ife as educational zone.
Sometimes we say there is no manpower, but in most cases, there is presence of manpower you cannot utilize. For instance, I found out that most of the wives of lecturers at the University of Ife had seized the opportunity of living in that institution to improve on their educational qualifications. Some of them were having master's and PhD degrees but they were not sufficiently qualified to teach in the university. So, there was the presence of manpower in certain areas but not employable. That was why we took College of Arts and Science to Ife and some people got angry wondering why we put it there when Ife already had a university. But our intension was to take the advantage of unusable manpower available at that time.
And I thought we could concentrate our educational development there. On the economic front, the idea then was to make Ibadan an industrial area. But when people are listening to budget, what they want to hear is the amount of budget going to their village. And that is why a lot of things are not properly done. In the end, there is always a thin spread of resources such that you hardly find what you have done with the money. It may also interest you to know that I started Road Safety Corps in Ibadan. I made Prof Wole Soyinka the Chairman of the commission. One can go on and on.