Sanusi: Rivers Under Odili Received N1 Trillion+ In 8 years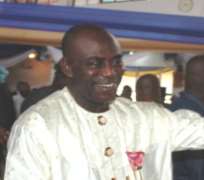 SAN FRANCISCO, November 19, (THEWILL) – The Rivers State Government under the administration of former governor, Dr. Peter Odili received N1 trillion and N52 billion naira between 1999 and 2008, as its share from the Federation Account, according to Central Bank Governor, Mallam Lamido Sanusi.
Odili was governor from 1999 to 2007.
Sanusi made the declaration at a dinner hosted for participants at the Rivers State Investment Summit (RIVINVEST 2011) on Thursday night in Port Harcourt, the Rivers State Capital.
Nigeria's anti-graft police, the Economic and Financial Crimes Commission (EFCC) had investigated Dr. Peter Odili of the Peoples Democratic Party (PDP) for various financial crimes including theft and misappropriation of state funds but a controversial court order procured by the former governor courtesy of his wife, Justice Mary Odili of the Supreme Court of Nigeria, had barred the police from ever prosecuting him.
THEWILL recalls that not much in terms of infrastructural development happened in Rivers State under Odili's administration, in spite of the huge revenue it earned as one of the top oil producing states. Instead, state funds were siphoned through phoney contracts to cronies to fund private interests and the former governor's failed Presidential aspiration in 2007.
Sanusi was speaking on several issues affecting states saying while one state may seem to have issues with so much cash, the others have problems because of limited funds.
"We have to recognize that it is not easy to think of Nigerian states today as having only one difficulty. While one state seems to have a problem with too much money, other states have problems with too little money. So before we go out praising governor Amaechi for all what he has done, you need to know how much money Rivers State has been getting compared to other parts of the country.
"And governor Amaechi, I have the facts here. And I hope the people of Rivers are going to watch you for the next four years. I am going to tell them how much money they have gotten so that they can ask a question. I did some analysis of the money that was gotten and was distributed…
"It is interesting when you look at the fund allocation, derivation and population. Now look at the numbers between 1999 and 2008, I found that Rivers State for example, received a total of N 1 trillion and 52 billion. And that is on an average based on the population numbers of 2006 of N 202, 506 per head. And I took a state like Kano with a population of over 9 million and over the same period, it received N285 billion at the average of N 30, 000 per head…," Sanusi told fellow diners.
While challenging other state governors to diversify and develop other sources of revenue, he praised the present Rivers State Governor, Rt. Hon. Rotimi Chibuike Amaechi, for thinking outside the box in growing the state's economy.
"For a state government that is receiving this kind of money to think of a forum like this, suggests that the governor recognizes that depending on oil fund is not going to be the permanent solution to its financial problems.
"Those states that are receiving a lot of money from derivation, need to take advantage to create an opportunity for sustainable revenues that are not dependent on oil. It has happened in other countries. It is amazing what United Arab Emirate is doing, it is amazing what Saudi Arabia is doing in terms of diversification. When we talk of diversification, it can happen at the level of the state.
"We have to look at ways how state governments can stop depending on monthly allocation and that is how we can achieve sustainable development," Sanusi added.
Sanusi, who said the future is no longer for states that borrow to spent called on present generation of Nigerian leaders not to spend time complaining of the corrupt practices of past governments but instead be committed to reforms.
Governor Amaechi in his speech said Rivers State spends about N7.8 billion on salaries, pensions, gratuities and recurrent expenses monthly, adding that it has not been easy for states since the federal government increased salaries without consulting state governments.