Deficit-Cutting Panel Girds For Failure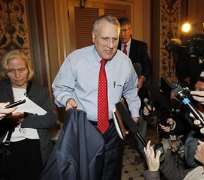 A high-profile congressional effort to trim stubborn U.S. budget deficits appeared near collapse on Friday as Democratic and Republican lawmakers were unable to agree on tax increases and benefit cuts.
A 12-member "super committee" has until midnight on Wednesday to strike a deal that would save at least $1.2 trillion over 10 years. Members say they think a deal is still possible, but aides privately are more pessimistic.
The panel must hold an up-or-down vote by November 23 but will need to have a deal in place well before then. Friday is shaping up to be a pivotal day, one member said.
"We should know by the end of today, and I'll give myself until 11:59 p.m. (0459 GMT on Saturday), as to whether or not there will be a deal," said Democratic Representative Xavier Becerra.
The group plans to meet on Friday and will work through the weekend if necessary, said Republican Representative Jeb Hensarling, a committee co-chair.
"We are painfully aware of the deadline and it is staring us in the face," he told reporters.
Unlike budget standoffs in April and August, failure would not lead to a government shutdown or a sovereign debt default.
Instead, automatic spending cuts of $1.2 trillion over 10 years, split evenly between military and domestic programs, would kick in starting in 2013.
A senior Democratic aide said the two sides are nowhere near an agreement.
Congress is already facing rock-bottom approval ratings after a year of down-to-the-wire budget battles, and failure to reach a deal would likely incite further disgust among voters as the 2012 election season heats up.
"A failure probably would improve the Democrats' narrative that obstructionist Republicans are impossible to deal with. But there will be plenty of blame to go around," said Greg Valliere, chief political strategist with analysis firm Potomac Research Group.
BUSH TAX CUTS A FACTOR
Many Republicans worry that the automatic cuts to military programs could compromise national security. Senator Patrick Toomey, a leading Republican on the super committee, said on Thursday he would try to modify them, presumably to ease their impact on the military.
Democrats feel less urgency as programs for the poor and the elderly, such as Medicare and food stamps, would be largely shielded from the cuts.
They also see an advantage as temporary tax cuts enacted under President George W. Bush are due to expire at the end of 2012 and Republicans are eager to forge a deal that would overhaul the tax code before then in order to avoid a higher tax burden on the wealthy.
Republicans have said they could support some tax increases in return for an overhaul of benefits like Medicare that are expected to expand dramatically as the population ages.
In a Friday morning meeting, pollsters told Democrats that retirees have little enthusiasm for changing Medicare and other benefit programs.
Democrats also hope to include measures to stimulate the struggling economy.
The panel must release any plan it comes up with at least 48 hours before a vote. That would point to Monday as a final deadline, but lawmakers must give budget analysts time to crunch the numbers as well. Several members said they hoped to have a framework in place by the end of the day.
"Certainly as you get to the midnight hour, pressure goes up," Democratic Representative Chris Van Hollen said.
MARKET REACTION UNCLEAR
It's not clear how investors would react to failure.
Markets plunged in August after a divisive battle over extending the government's borrowing authority prompted ratings agency Standard & Poor's to issue a first-ever U.S. debt downgrade. The other two major agencies have said they would not necessarily follow suit if the super committee deadlocks, as long as the automatic cuts are allowed to kick in.
Investor expectations are extremely low, which might limit the scope of market reaction. Most are distracted by the ongoing debt crisis in Europe, which may ensure a safe-haven bid for Treasury bonds and the dollar even if the committee fails to agree on substantive cuts.
However, the automatic cuts may be seen as another negative for the U.S. economy and could roil the stock market.
Failure to reach a deal also would make it harder for Congress to extend a range of provisions, from payroll tax cuts to enhanced unemployment benefits, due to expire at the end of the year. Economists warn that the economy could suffer if those measures are not kept in place.
There is a third option. Super committee members could set aside divisive issues like taxes and benefits and put together a much smaller package containing measures both sides easily can agree upon, such as selling off radio and television frequencies and cutting federal pensions and farm subsidies.
That would reduce the severity of automatic spending cuts.
REUTERS