WHY LAWMAKERS ARE ANGRY WITH JONATHAN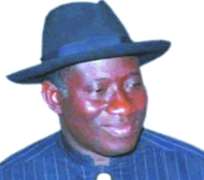 Jonathan
Fresh facts emerged yesterday on the seeming frosty relationship between the Presidency and the National Assembly lately. Within the week alone, some Senators who were angry with the Presidency over the increasing insecurity especially the spate of attacks by the dreaded Boko Haram Islamist sect, threatened to push for a 'no confidence' motion against President Goodluck Jonathan. Just on Wednesday, the federal lawmakers rejected the Presidency's plan to remove fuel subsidy.
Sources told Daily Sun that the federal lawmakers were angry with President Goodluck Jonathan over the 2011 Appropriation virement request from the executive to transfer some funds from one sub-head to another.
At stake in the virement proposal is N4.97 billion constituency project funds appropriated for some constituencies in the 2011 fiscal year which are now under threat of non-implementation.
Senate President David Mark's district is affected. He represents Benue South.
The 2011 Appropriation virement proposal was submitted to the National Assembly for approval in September. The proposal has since been stuck in the federal legislature.
Details as contained in the proposal showed that at least eight senatorial districts are affected by the virement.
Domiciled in the Office of the Secretary to the Government of the Federation (SGF), under the sub-head of National Poverty Eradication Programme entitled: 'Poverty Reduction Grant Scheme', the affected senatorial districts are: Zamfara West, Niger South, Bayelsa West, Rivers East, Imo East, Nasarawa South, Benue South and Kano South.
The projects are estimated to cost N1.870 billion at N200 million each while that of Benue South is worth N250 million only.
National Assembly sources said that 'federal lawmakers have vowed that the virement would never be passed. The proposal remains with the Appropriation Committee where it was referred to two months ago.
'The request has already been shut down in the House of Representatives, while Senators are not even interested in discussing it at all.'
Another source said that the lawmakers are unhappy that some appropriated funds are being moved to other sub-heads which are 'not deemed critical. 'We got to know that some vital projects in the 2011 budget have no funds to execute them while some MDAs which have no capacity at all to execute the projects for which they have been appropriated funds in the budget.
'So, the executive has brought virement to free up those funds for those critical projects but the House is resolutely against that move. Part of the reason is that some of the funds that the executive wants to vire are meant for constituency projects of members of the National Assembly for the 2011 fiscal year.'
More details also emerged on the Tuesday's executive session in the Senate.
Some Senators called for the removal of the service chiefs while others queried the national honour bestowed on Inspector-General of Police, Mr. Hafiz Ringim. The Senate is reportedly divided over calls on the President to remove his security chiefs. Some Senators were reportedly angry that the security chiefs 'have let down the country.'
A Senator from the South-west (names withheld) specifically called for the sack of all the security chiefs 'or the President is on his own.'
At this point, some Senators from the ruling Peoples Democratic Party (PDP) rose in stout defence of the President, insisting that nothing of such would happen. At the Wednesday parley, sources who witnessed it said that the President frankly admitted that 'some security agencies are not performing.' The President has reportedly assured federal lawmakers that 'something would be done about that.'