EFCC STALLS DANIEL'S TRIAL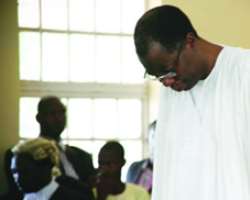 • OGD
The Economic and Financial Crimes Commission (EFCC) has told an Ogun State High Court sitting in Abeokuta that it has prepared more criminal charges against former governor of the state, Otunba Gbenga Daniel.
The EFCC counsel, Rotimi Jacobs, stated this yesterday while asking the trial judge, Justice Olanrewaju Mabekoje for a short adjournment to enable him file additional charges against the former governor.
Daniel had on October 12 been arraigned before the court on a 16-count charge of stealing and diversion of state funds for personal use. After taking his plea and subsequently granted bail on some stringent conditions, the case was adjourned to November 17, 2011 for commencement of trial.
When the matter came up yesterday, counsel to EFCC, Rotimi Jacobs sought the court's leave for a week adjournment based on the fact that more charges had been prepared against the accused, which the prosecution intends to file before the court. He said although he was ready for trial to commence if the court insists.
According to him, 'My Lord, I have just received a brief from my client which says additional charges against the accused person have been added to the existing 16- count charge. I hope to file these charges before your Lordship so a full-scale trial can commence.
'Although I have my witnesses in court and I am also prepared if your Lordship says trial should begin. But I strongly feel that it will be most appropriate to file these new charges so when I need to refer to issues raised in them during trial, it will be convenient.'
The presiding judge then asked the defence counsel, Taiwo Oshipitan, if he had any objection to which he answered no. The case was, thereafter, adjourned to November 28, 2011.
It would be recalled that the former governor was granted bail by the court on Friday, October 14 in the sum of N500 million and two sureties in like sum. The sureties who must have landed property within the jurisdiction of the court must also submit the title of the same to the court registrar along with their passport photographs.