Wall St. Ends Down After Technical Level Hit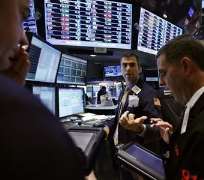 Trigger-happy investors dumped U.S. stocks on Thursday, scared out of the market by a sudden fall through a key technical level brought on by more worries about Europe's debt troubles.
Based on the latest available data, the Dow Jones industrial average .DJI was down 134.26 points, or 1.13 percent, at 11,771.33. The Standard & Poor's 500 Index .SPX was down 20.54 points, or 1.66 percent, at 1,216.37. The Nasdaq Composite Index .IXIC was down 50.29 points, or 1.91 percent, at 2,589.32.
REUTERS