SEA SALT HEALTH CLAIMS 'FLAWED'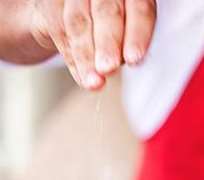 Don't add salt to your food, say health experts
Rock and sea salt is no different from ordinary table salt, despite claims it is natural and more healthy, say consumer groups.
Research for Which? and Consensus Action on Salt and Health found no difference in chemical content between regular salt and costly gourmet brands.
Manufacturers dispute the report saying it does not give the full picture.
Most UK adults eat too much salt, far above the recommended guideline of about a teaspoon a day.
Eating a diet high in salt is linked with high blood pressure, a risk factor for stroke, heart failure and heart disease.
The research analysed the chemical content of several gourmet brands of sea and rock salt, and compared this with ordinary table salt.
They say all contain almost 100% sodium chloride and are equally damaging to health in large quantities.
Celebrity chefs should not be encouraging people to sprinkle sea salt on food, the report claims, as you can get all the salt you need from a balanced diet.
Professor Graham MacGregor of the Wolfson Institute of Preventive Medicine is chairman of Consensus Action on Salt and Health (CASH).
He said it was "disgraceful" that chefs still encouraged people to use so much sea and rock salt.
He told the BBC: "The most important message is that you don't need to add a chemical [sodium chloride] to your food.
"Food without salt tastes much better. There's quite enough already present in fruit, vegetables, meat and fish."
Cheaper option
The report says brands claiming some salts are more natural and contain essential minerals are confusing the public.
An online survey of 1,358 members of Which? found around one in three admitted thinking that rock and sea salts were healthier than table salt.
Which? chief policy adviser Sue Davies said: "Many of us are trying to reduce the amount of salt in our diet, but our research shows that people are needlessly spending more money on 'premium' salt as they often believe it's healthier than traditional table salt.
"Given that most of the salt we eat is already in the food we buy, the cheapest – and healthiest – option would be to stop adding extra salt to food altogether.
"Which? is calling on food manufacturers to reduce the amount of salt in their foods, and we'll be monitoring their progress over the coming months."
David Lea-Wilson, co-owner of the Anglesey Sea Salt Company, which makes Halen Mon Pure White Sea Salt, disputed the research.
He told the BBC: "This report is not giving a full picture by not going into the other things in either sea salt or the additives in table salt."
Romi Alexander of So Natural, which supplies Himalayan Crystal Salt, said: "Table salt is a highly refined, processed white substance that's devoid of nutrients."