NAG BANK GROUP TO LOSE 200 JOBS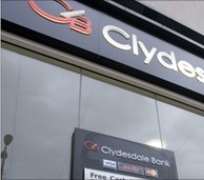 Clydesdale Bank is part of the National Australia Group
National Australia Group is to shed almost 200 jobs at the Clydesdale and Yorkshire banks in the UK.
The bank group is to lose 279 jobs from its financial solutions unit but it was not saying where the posts would go.
However, it confirmed that it would be creating 89 jobs in Scotland, as it expanded its direct business banking.
Chief executive David Thorburn said the slow pace of recovery was creating significant challenges and that redundancies were inevitable.
The banks have entered into a 90-day consultation period with the union to find the best way to manage the change.
Mr Thorburn said: "We have been clear that the slow pace of national economic recovery will create significant challenges and that we expect job numbers to fall in the year ahead as we reshape our business.
"These changes are necessary to ensure the long-term sustainability of our business banking operations and to enable us to continue to offer a strong service for customers.
"While we will create new opportunities within our direct business banking team, it is always a very difficult decision to introduce changes which will impact staff, but some redundancies are inevitable."
Clydesdale Bank was established in 1838 in Glasgow.