APPLE MEETS CHINA ENVIRONMENT GROUPS TO POLISH IMAGE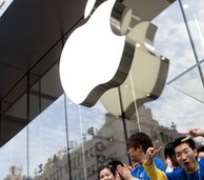 Apple has identified China as one of the key markets for its future expansion and growth plans
Apple has met with environmental groups in China in a bid to quell concerns about pollution caused by its Chinese manufacturers.
The move comes after a report in August alleged that some Apple manufacturers were discharging harmful pollutants.
The Institute of Public and Environmental Affairs (IPE) said the technology giant had shared its plans to address the issues during the talks.
When contacted by the BBC, Apple refused to comment on the meeting.
"They explained a bit what they have been doing, which includes probes of 15 of their suppliers," Ma Jun, Director, told the BBC's Chinese service.
"They've since laid out improvement plans, and are now working on them to a timetable.
"They promised to increase assessment of environmental impact and management when they look for new suppliers in the future, and they will make use of the data that we made public about their supply chain management," he added.
'Environmentally responsible manufacturing'
The IPE said Apple did not disclose the identity of its suppliers, but was confident that the US company will work to ensure that its partners comply with environmental regulations.
Although Apple refused to comment on specific talks, its Beijing-based spokeswoman, Carolyn Wu, told the BBC that the company conducts regular audits of its suppliers.
According to its Supplier Responsibility report, Apple conducted such checks at 127 different facilities last year.
The company also said that it required its suppliers to resolve any violation within 90 days.
"Apple is committed to driving the highest standards of social responsibility throughout our supply chain," Ms Wu said.
"We require that our suppliers provide safe working conditions, treat workers with dignity and respect, and use environmentally responsible manufacturing processes wherever Apple products are made."