UK RETAIL SALES SEE SURPRISE RISE IN OCTOBER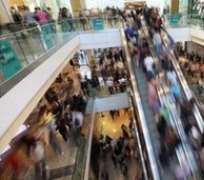 Analysts had expected sales to fall, but a spate of pre-Christmas sales and promotions helped to lure shoppers, with prices down 0.4% in the month.
The ONS said the food sector had seen a boost in October, driven mostly by price promotions.
Sales volumes in small stores rose 5.3% year-on-year – the biggest increase since November 2004.
This rise was put down to shoppers avoiding larger stores in out-of-town centres in order to cut down on petrol costs.
"The retail sales figures were better than expected, although longer-term comparisons still point to a flat picture," said David Kern, chief economist at the British Chambers of Commerce.
"While the improvement in sales is welcome, the relentless squeeze on disposable incomes will put pressure on people's ability to spend in the next few quarters," he added.
Howard Archer, chief UK and European economist at IHS Global Insight, said the latest sales figures provided a "significant boost to the hope that the economy can keep growing".
However, he added that shoppers were likely to be "very cautious in their spending for some considerable time to come".
Confidence low
Despite the better-than-expected sales figures, a number of updates from High Street retailers indicated that many chains are still struggling in the current economic environment.
Kate Davies from the Office for National Statistics says the figures are part of a bigger picture that indicated a change in people's shopping habits.
Fashion chain French Connection said its UK sales had slowed because of the recent unseasonably warm weather, and that it was unlikely to meet its annual profit forecasts.
Mothercare reported a half-year loss of £81.4m after problems with its UK operations. The company is already planning to close 110 of its UK stores and it has now announced a review of its whole UK business.
Earlier on Thursday, the latest monthly consumer confidence index from the Nationwide found that confidence in October had fallen to the lowest level since the survey began in May 2004.
The index fell for the fifth month in a row last month to a value of 36, well below the long-running average of 78.