No New Corpers For Borno, Yobe States - Youth Minister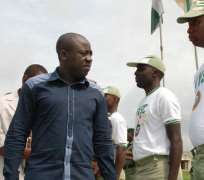 SAN FRANCISCO, November 17, (THEWILL) – Following the insecurity in Borno and Yobe States and the controversy surrounding would-be-corpers already posted to the states, the Minister of Youth Development, Mallam Bolaji Abdullahi has said no new corpers in the current Batch C would be posted to the states.
A statement Wednesday the Special Assistant on Media to the Minister said, "no new corps member would be posted to these states under the current 'Batch C' mobilization of corps members. The affected corps members will be called to camp and begin the orientation exercise in Benue State (for those initially posted to Borno) and Nassarawa State (for those posted to Yobe) immediately after the regular Orientation Camps close.
"Thereafter, these corps members would be posted to all states of the federation, except for Borno and Yobe States.
"The Honourable Minister wishes to assure all corps members that Government is working hard to ensure their safety and security, and commends them for their unalloyed service to Fatherland," the statement added.
Boko Haram, the radical extremist Islamic group which says it wants Islamic law instituted in all states in the north has orchestrated several deadly bomb attacks killing more than 150 persons this year.