PORTUGAL'S PM PEDRO PASSOS COELHO VISITS ANGOLA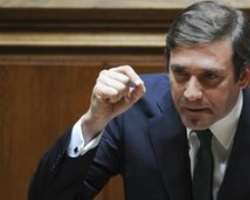 Portugal's Prime Minister Pedro Passos Coelho lived as a child in Angola
Portugal's prime minister has arrived in oil-rich Angola, which is boosting its investment in its former colonial power caught up in the eurozone debt crisis.
Angolan presidential aide Carlos Maria Feijo said Portugal's privatisation scheme would be discussed.
The International Monetary Fund has ordered Portugal to sell state companies to qualify for a bailout.
Angola's investments in Portugal have risen sharply in recent years.
The figure in 2009 stood at $156m (£99m), compared to $2.1m in 2002, according to the Portuguese Institute of International Relations and Security (IPRIS), a Lisbon-based think-tank.
Angolan companies own the equivalent of 3.8% of companies listed on Portugal's stock exchange, from banks to telecoms and energy, it says.
'Very welcome'
Angola is Portugal's fourth biggest trading partner and its largest outside the European Union. Portuguese goods account for nearly one fifth of all Angolan imports.
Ex-colonial brothers in business
Angola
Population: 18.9 million
Area: 1.25m sq km (481.354 sq miles)
GNI per capita: $3,490
Expected to grow by 12% in 2012
Investments in Portugal: $156m in 2009; $2m in 2002
President Jose Eduardo Dos Santos in power since 1979
Portugal
Population: 10.7 million
Area: 92,345 sq km (35,655 sq miles)
GNI per capita: $20,940
Expected to shrink by 2.8% in 2012
Biggest trading partner outside EU: Angola
Prime Minister Pedro Passos Coelho in power since June 2011
Former BBC Angola correspondent Louise Redvers say there is now a reversal of former colonial roles, with cash-strapped Portugal considering selling shares in state-owned companies to Angola.
The IMF has agreed to give Portugal a $107bn bailout on condition that it introduces a wide range of economic reforms – including privatisation.
However, anti-corruption campaigner Rafael Marques says Portugal should be careful about accepting money from Angola, where corruption is endemic.
"The Portuguese should be asking questions about where this money is coming from," he said.
"If they don't ask these questions, they risk Portugal becoming a Laundromat for Angola's ill-gotten gains."
Angolan President Jose Eduardo Dos Santos' chief of staff, Carlos Maria Feijo, said Angola would discuss Portugal's privatisation scheme during Prime Minister Pedro Passos Coelho's visit.
"I think that each country is respecting its own interests and is just following its own interests," he said.
"Many Angolans have business interests in Portugal, but also a lot of Portuguese people are here in Luanda making business, so I would say it's a reciprocity which is good for both countries."
Mr Passos Coelho told the Journal de Angola newspaper that Angolan companies would be "very welcome" to buy shares in state-owned companies targeted for privatisation, though none had shown an interest so far.
Portugal was committed to strengthening bilateral ties with Angola, he is quoted as saying.
IPRIS researcher Pedro Seabra said the sharp increase in Angolan investments in Portugal was unprecedented.
"I can't think of anywhere where it has happened like this," he said.
"I am sure we are going to see a lot more Angolan purchases of Portuguese assets in the near future."
Portugal's economy is expected to contract by 2.8% in 2012, while Angola's is expected to grow by 12%, analysts say.
Portuguese companies expected to be privatised include national airline TAP, utilities company Energias de Portugal and national grid operator Redes Energeticas Nacionais.
The family of Mr Dos Santos – who has been in power for 32 years – controls a large chunk of Angola's economy, while most Angolans live in poverty.
Mr Dos Santos' daughter Isabel is known to have a large Portuguese portfolio, as does the state oil firm Sonangol, our former correspondent says.
This will be Mr Passos Coelho's first visit to Angola since he was elected to office in June.
He grew up in Angola, where his father was a doctor during the colonial era.
Angola gained independence from Portugal in 1975.