WHY JONATHAN MUST PADDLE AWAY FROM BAYELSA BACKWATERS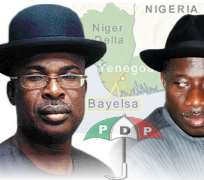 Nigeria's south-south State of Bayelsa is the setting for a latest political dance with all the salacious macabre tinge, and the promise of long-drawn showdown that would embarrass everyone involved when the beats eventually stops. In the forefront of this deadly dance in the jungle are two prominent sons of the land, the president of one hundred and fifty million compatriots, Goodluck Jonathan, and the lone quarter-back in the affair, the governor, Mr. Timipre Sylva.
Most fights in Nigeria, especially the political type, are usually over resource control and the authoritative allocation of what goes to hard, "shakable" or sometimes immovable men of "timber and caliber".
This latest rough shove between Governor Silva and Mr. President, since we are not furnished with the shadows of the palaver, that has now become very open, would therefore not be casually assumed to be borne out of the regular petty sibling rivalry, or soon-to-lift disagreement. At least, the media has feasted on and served remnants of the savage jists to a badly starved, hardly informed Nigerian spectators, snippets of the squabble which one must remember has lingered for about five years now.
We have all been entertained by similar juvenile quarrels in the political arena from the time the foundation of Nigeria as a modern nation was laid. The tempo, and indeed, the frequency of these hard-to-explain deadly disagreements have however become more intense in the last twelve years of elective democracy in the homeland. Such scary fights often become deadly and distracting. And for a good man as Dr. Jonathan, whom we have often mistakenly underrated to want to unseat his home governor with venomous determination, one cannot but wonder if we would ever know why he and Sylva want to create a river of blood in Bayelsa this time around.
Nigerians have learned to be cynical since the days of "read my lips" and "Insha Allah". The political virginity of Jonathan and his seductive promise of conducting business of nation-building with openness and transparency coupled with symbolic generational shift since his election made our hope for a new day a pardonable bet. If the truth most not be as bitter as a violated bile or poorly-squeezed bitter-leaf, the sudden descent from the height of lofty aspirations for a possible new day, to a climb-down from Aso Rock tops to meddle in the affairs of Bayelsa State, means that things are threatening to derail. So are Nigerians again stuck, to paraphrase of immortal words of the country's founding president, Dr. Nnamdi Azikiwe, in an interview with Elizabeth Blunt of BBC as the nation began its second missionary journey to nowhere called the Second Republic, where "our politicians have learned nothing"? So what is being done differently here?
Dr. Jonathan is at the center. One expected that there would be enough files on power devolution, federal character and authoritative allocation of resources, values and loots that would keep a determined commander-in-chief occupied. One would also expect him at this point when his support base is fast eroding, to be the commander-in-chief for our troops, to halt the ambition of Boko Haram and other sectional militia from turning Nigeria into a Federal Republic of Mebutu and Madubu, rather than to be distracted by what one would consider to be a harmless political rhetoric of a state governor allegedly threatening to annihilate the first family. No one has so far entertained the that the tape on this doubtful conversation between Sylva and the president's brother ought to be played before the national audience.
The question should be asked as to what should be our business if two kinsmen decide to go for cutthroat political tactics? That would be a proper pose, but we are all part of the same humanity. We are part of the same Nigerian polygamous rancorous family and we would not stand by and allow what should be an insignificant family feud develop into an inferno that could end up consuming the entire house. In the same country where General Muhammadu Buhari and former vice-president Atiku Abubakar, threatened worse physical harm to our corporate existence as a nation, and some of their blood-thirsty loony followers have acted out a script of the promise to hold Nigeria hostage and heaven is still where it is, and heaven did not fall, pray, why should Silva, who controls no army, be the a target that must be unseated at all costs.
Jonathan is fast unraveling that appealing humanity of hope and improved standard that initially endeared him to Nigerians. Now he is gravitating more towards the mentality of Obasanjo, Babangida and all those things that eerily pound our psyche and memory as vindictive.
Dr. Jonathan is still loved in spite of the fact that he has not done enough to secure Nigeria. He should paddle himself away from Bayelsa backwaters to the center where we all want him to take care business. He should not hand his people over to the strangers who call the shots as the Central Working Committee of the PDP in Abuja. Dr. Jonathan, if he must be believed on the promise of sterling reforms, must allow local people to conduct local political affairs. He should let the PDP in Bayelsa take care of whatever fears they have about Silva. We want our president on the seat taking care of federal business.
Oladimeji Abitogun is the Editor-in-Chief of SharpEdgeNews.com based in Kansas City, Kansas, USA.
Disclaimer:

"The views/contents expressed in this article are the sole responsibility of

thewillnigeria.com

and do not necessarily reflect those of The Nigerian Voice. The Nigerian Voice will not be responsible or liable for any inaccurate or incorrect statements contained in this article."
Articles by thewillnigeria.com