Aliko Still Africa's Richest On Forbes Inaugural List Of 40 Loaded Africans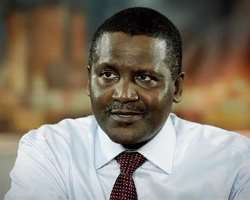 SAN FRANCISCO, November 16, (THEWILL) – Nigerian born Industrialist and billionaire, Alhaji Aliko Dangote is number one on the list of 40 richest Africans in Forbes' Inaugural 40 Richest Africans published today, which has sixteen (16) billionaires and 24 millionaires.
Aliko's estimated fortune was put at $10.1 billion USD based on his stake in Dangote Cement, a company listed on the bourse with operations in other countries in Africa, as well as his holdings in sugar, flour and salt manufacturing companies.
Behind him at number two is South African diamond magnate Nicky Oppenheimer, with a $6.5 billion fortune.
Forbes said its "inaugural list of the 40 Richest People in Africa is a testament to the growing global importance of the continent. Fortunes are being created everywhere from South Africa clear north to Morocco and Egypt in a diverse array of industries, by companies that cater to local tastes or worldwide needs."
It computed the combined wealth of the 40 to be $64.9 billion – more than Thailand's 40 richest (at $45 billion) but less than Taiwan's (at $92.7 billion).
A breakdown of the numbers shows Egypt with seven (7) billionaires mainly from two families – Sawaris and Mansours. South Africa contributed 4 while Nigeria contributed 2 billionaires with the President of Globacom, Dr. Mike Adenuga emerging the fourth richest with $4.3B. Six (6) other Nigerians were listed as millionaires.
The top 16 are:
1. Aliko Dangote - $10.1Billion
2. Nicky Oppenheimer & Family -$6.5Billion
3. Nassef Sawiris-$4.75 Billion
4. Johann Rupert & Family-$4.7Billion
5. Mike Adenuga -$4.3 Billiom
6. Milioud Chaabi -$3 Billion
7. Naguib Sawiris-$2.9Billion
8. Christoffel Wiese-$2.7Billion
9. Onsi Sawiris-$2.6Billion
10. Patrice Motsepe-$2.5Billion
11. Othman Benjelloun - $2.4B
12. Anas Sefrioui - $1.75B
13. Mohamed Mansour - $1.7B
14. Youssen Mansour - $1.55B
15. Youssef Mansour - $1.55B
16. Mohammed Al Fayed - $1.3B
The Nigerian millionaires on the list are former Managing Director of Zenith Bank, Mr. Jim Ovia emerging 17th with a fortune of $775 million; former Defence Minister, General Theophilus Danjuma at 21st with a fortune of $600 million; Chairman of Honeywell Group, Dr. Oba Otudeko at 24th with $550 million; former UBA Managing Director and promoter of Etisalat in Nigeria, Mr. Hakeem Bello-Osagie at 28th $450 million; businessman Abdulsamad Rabiu at 29th with $400 million; and businessman Dr. Mohammed Indimi at 30 with a fortune set at $330 million.