HOW GENEVIEVE NNAJI BECAME NIGERIA'S MOST SUCCESSFUL FEMALE ENTERTAINER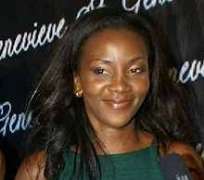 She has only failed in One aspect of her endeavor in recent time.That was when she tried her hand in singing.
But even at that,Genevieve Nnaji's album,gave her stupendous cash.This is because the owners of the record label on which she did her music trial paid her handsomely to produce the album.But that is the low point in an illustrious career that has been celebrated from Nigeria to Africa and the world stage.
In the last six years,no one has been celebrated and adored like Genevieve as she has won all awards in the movie industry and represented Nollywood all over the world.
Genevieve has also made a fortune from the movie industry becoming the highest paid actress ever.
With her fortunes has also come the fame which has now led her to become a Member of the Federal Republic,MFR,the fourth highest honour in the land.
Genevieve was honoured yesterday by President Goodluck Jonathan alongside other Nollywood stars Olu Jacobs, Kanayo O kanayo, Amaka Igwe, Genevieve Nnaji, stephanie Okereke, Osita Iheme.
Genevieve shows appreciation to fans, she tweeted I want to share this with all my twe EVES!! All of u who hv stood by me thru the yrs and and hv said Aye! Wr others hv said Nah.I give all glory to God almighty,but want to especially dedicate this medal to you.U rock ! xx

Genevieve receiving her award from the president