SOUTH-EAST DESERVES TWO MORE STATES -SEN NWAGWU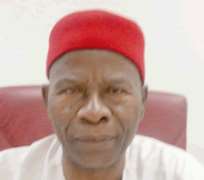 •Nwagwu
The Libyan revolution that consumed Mummar Gaddafi, who ruled the oil rich nation for 42 years, has been described as democratic wind, blowing across nations. This and more were the views of the Chairman, Senate Committee on Foreign Affairs, Senator Matthew Nwagwu, representing Imo North. In this interview with Daily Sun, the former Nigerian Ambassador to Switzerland, said he supports the Federal Government's` plan to remove fuel subsidy. He spoke more on the activities of the senate. DICKSON OKAFOR brings the excerpt:
Senate and me
My experience as first time Senator is interesting, challenging and at the same time exciting. As you are aware, we have just settled down to work, having been allocated to committees. The functions of law-making is not new to some of us especially professionals like myself. We are making adjustments to discharge our legislative functions.
Assessment of the present Senate
Well, I don't know much about the last Senate to be in a better position to compare the present senate with the last. With the caliber of men and women that constitute the 7th Senate, Nigerians should look forward to seeing the enactment of quality and effective laws that will better their Lives. The Senate is made up of strong people, great men and women who are ready and poised to make Nigerians proud as professionals in their respective fields.
My agenda for Okigwe people
Our job is purely legislative, making laws, deeds and motions. It is true oversight functions such as budgets and execution are the duties of the executive but since we are part of the government, it is expected that we work with other organs of government to make sure projects are executed and that we give the people the dividend of democracy.
My concern among others is roads, because Okigwe zone lack good roads. Our roads are in bad shape, while in some areas there are no roads to link communities. Another challenge is clean water. Most communities cannot boast of portable water; while a lot of communities in Okigwe are without electricity and health centres.
However, I hope to sponsor bills that can attract infrastructure to my senatorial zone. Unemployment is another worrisome thing. I look forward to providing employment for my people particularly the youths. Education will also receive attention, but to be frank with you, I feel bad that after 50 years of Nationhood, we are talking about how to attain steady power supply, provision of good roads and portable water for our people.
I agree that governance had been interrupted by military interventions now and then, but we will increase our speed towards infrastructural development and provision of basic amenities for the citizenry, then transit to higher levels of development so that in the next 6 or 10 years we won't be talking about all these basic things.
Neglect of Okigwe as one of the old provinces
It's unfortunate we find ourselves in such condition, but it is not by choice, and if you look at the past administrations, each promised to develop Okigwe; that it will be given a priority but at the end it never happened. This time around, we have attracted the attention of relevant authorities to put extra effort to develop Okigwe. Of course you know a lot of developments have taken place in other old provinces, such as Owerri, Enugu, Ibadan, Lagos, Port Harcourt and those in the North, but Okigwe is lacking behind. I think its time the people of Okigwe rose to the occasion and take their case to state and Federal Governments to let the authorities be informed of the real situation in Okigwe.
Imbalance in number of states
The creation of at least 2 more states in the South east is imperative. It is a must if we want to be fair to all. I think now is the best time to correct that imbalance in state creation, especially now that the constitution is about to be reviewed and amended. The South-East geo-political zone must work hard and agree on the components that will make up the states, then take their case to the lawmakers and I believe our compatriots will support our move to correct the imbalance. They know that it is a worthy cause we are fighting.
What side of the divide do you support in fuel subsidy palaver?
This is a topical issue and from what is going on you can see that the common man is not and has not benefited from the fuel subsidy hence there are some middle men or cartel that are really enjoying the benefit of the subsid. I'm in support of the plan to remove the subsidy, and I am appealing to my constituents to take a closer look at the benefits they will enjoy if fuel subsidy is removed and we all know that what the country deserve now is infrastructural development and provision of basic amenities. Let me tell you, the number or high rate of waste of lives and resources in the country due to bad roads could have been averted if the money we lose through fuel subsidy is channeled to infrastructural development. At least, by now we would have achieved steady power supply, good road network, improved health care, qualitative education and improved standard of living. Let's divert the money from fuel subsidy to economic development and I assure you that if this is done, our railway will come alive and government will be able to fund other areas of importance.
Delay in budget implementation
I disagree with you that the legislative arm of government in the previous administrations seems to have given the executive arm a leeway to delay implementation of the budget through late passage of the budget. Rather I regard the assertion as egg and chicken which one comes first story. The entire process is faulty and in recent years, they have started to correct it. So, I assure Nigerians that the 7th Assembly will be fast on the passage of annual budget to get it passed and ensure it is implemented to the later to improve the system. A lot of grand work has to be done ahead of the presentation. So that any area of disagreement between the legislature and executive will be reduced as much as possible.
PDP 'll regain Imo in 2015
Presently, reconciliation is going on in Imo PDP. Serious moves are being made to unite the aggrieved members of the party. A lot of work is going on. This, I will not mention on the pages of Newspapers. We are looking into those issues we had that led to Imo falling to APGA. You know also that you are to obey the will of the people. So at one time, the people may decide to vote one way, and when they see what that government has done they may decide to vote the other way. That is what we call democracy, that is having the right to choose - you can then say, we are making progress. It is left for the people to assess the government they have chosen and whether it has improved their living standard or not. But I can assure you, PDP will regain Imo in 2015.
The Libyan example
Most people believe that the uprising in North African countries is as a result of oil politics. But I disagree because there is an umbrella body that unites all oil producing countries and that is OPEC, which Nigeria is a member.
Here in Nigeria, government is using money from oil to develop the nation and her people, but in the case of Libya, this is a country where the leader or head of state has been in power for 42 years and ready to stay for life. Definitely in such a situation, such a leader is already creating loopholes and avenue for instability and foreign intervention because it is believed that Gaddafi had over powered the Libyan people, hence the Libyan people cried out for help and NATO came to their rescue. Most of these countries where violent change took place refused to embrace democracy.
Democracy is the best form of government, and I am glad that Nigeria is growing democracy and it is getting rooted. That is why government through dialogue and awareness drive is educating and seeking the support of Nigerians to remove fuel subsidy but if it were to be an undemocratic nations, the leaders don't consult the people before they do certain things. The bottom line is to know when to quit, conduct election and hand over to some one else. At least after 4 or 8 years, a leader should leave the stage and allow someone else to pilot the affairs of the nation.