IF ONLY GOVT COULD FIX EDUCATION IN NIGERIA…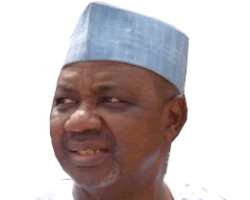 VP, Namadi Sambo
Mallam Isa Garba is a school principal in Bauchi State who bears a striking resemblance with Nigeria's Vice President, Namadi Sambo. Born in Toro, the 53 year-old Sambo's look-alike is married with two wives and five children.
A graduate of Geography from Ahmadu Bello University, Zaria, Mallam Garba is the principal of Government Day Secondary School, Kafin Madaki, Ganjuwa Local Area of the state.
'I taught in Tilden Fulani primary from 1971 to 1980 after finishing from the Teachers College.
Then I went to the General Hassan Usman Katsina Unity College. From there, I came to the state Ministry of Education as a teacher in Toro. I was employed by the state government in 1995, and since then I have been with the ministry of education,' he says of himself.
Asked how he feels knowing that he resembles Nigeria's number two man, Mallam Garba asserts: 'We are created by God and he knows why he created such figures, so I don't see anything new in it. From time to time, I come across such stories in the newspapers.
'To some extent, it is something good for me to resemble the number two citizen in the country, but the most important thing is that God knows why he does so.'
Isa says he got to know that he resembled Sambo in 2008 when he was the principal of Government Science Secondary School, Misau, while the VP was then Kaduna State governor.
He recalls: 'My students came with a picture and asked me, 'sir, do you know this person? I looked at it carefully and said, 'yes, I know him. This is Kaduna State Governor, Architect Namadi Sambo'. So they started laughing and said, 'sir you look like him'. Since then from time to time, people will be telling me that we look alike. In fact, my directors in the ministry, when they see me they call me Your Excellency.
'My second experience was in Zaria when I went to collect my result at the Ahmadu Bello University (ABU) in 2008. I asked somebody to collect the result for me, but it didn't work out, so I had to collect it myself.
'We went somewhere to see a certain doctor in his house who had the picture of Namadi Sambo on the wall. Then Sambo was governor. We were sitting down when the doctor told my friend, 'your guest looks like our Governor, Namadi Sambo.' He said, 'look at the picture.' Actually, I couldn't see myself. After leaving the house, we went inside the campus and went to another doctor's office. The doctor looked at me and said ,'yes, this is Namadi Sambo. These are some of the experiences I encounter daily. People will look at me and say, 'you look like Namadi.'
While the VP is one of the most powerful men in the country today, his look alike, Mallam Garba says he is fulfilled as a teacher.
He says: 'I am happy with my job. To bring up a young person to become responsible and well educated is the very joy I derive in teaching.
'I feel proud and happy because some of them have prospered in their endeavours. Some of them have joined the customs service, the police, the army and other professions.
'Many of them are people to reckon with. That is the joy in teaching, training people. You are just like a candle. You burn yourself and then you light the place for other to see.
That is the work of a teacher.
'I wish to retired as a teacher. Teaching is a very nice profession. It's wonderful to be a teacher. One experience I could not forget is when I collected my first salary as a teacher and as a professional in that field. I don't see any job that is better than teaching. I have thought of changing a job in my life.'
Mallam Garba says if he had the chance to meet the Vice President, he would greet him as a leader and a normal human being.
'If I meet with him someday, I will tell him what the people say about me concerning being his lookalike. Of course I will be happy with meeting him.'
He maintains that he is contended with the position God has taken him to in life. He says he would never take advantage of his resemblance with the Vice President to ask for favours.
'As a Muslim, I believe in one God who provides for everybody at the right time, and I have that at the back of my mind.'
But whether he meets the VP or not, the school principal has one wish from the Vice President: Clear the mess in the education sector.
'If the youth are properly educated, then the nation is educated and the issue of this violence and social vices will reduce drastically. I therefore wish that the federal government would pay more attention to education.'
The issue of training teachers is very paramount to Mallam Garba. He wants the Jonathan-Sambo administration to give due attention to the training of teachers.
He argues: 'If we don't train teachers, we are wasting our time. The major problem in the sector is teachers' training and welfare.
'Then the issue of upgrading schools, through the improvement of the science laboratories, furniture, libraries and other facilities that make teaching and learning conducive.
'Government should also improve recreation centres and promote sports in schools.
'The government must also enforce discipline in our schools. The indiscipline in most of our school is appalling. In most cases, parents leave the disciplinary aspect of their children or wards to the teachers because the students spend most of their time in school, particularly those in the boarding school.
'That is why I believe the teacher should always remember he is a model to every student. They should be his friend. In a situation where you find a teacher smoking, going to beer parlours with students. That where the problem emanates from. On many occasions, you see parents coming to attack teachers. All these happen where there is no discipline, and where there is no discipline, anything can happen.'