IS CITIZEN DIPLOMACY DEAD?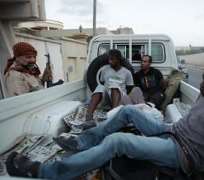 Tales of tears, terror, torments and trauma is the apt description of the experiences undergone by hundreds of stranded Nigerians who fled Libya at the heat of the anti-Gaddafi rebellion to escape targeted assassination by the rebels of the National Transitional Council of Libya.
In voices generously dripping with emotion, the Nigerian returnees who reportedly spent two months in the notorious deserts from Libya to Nigeria arrived in late October 2011 through Borno State with sad stories of the series of gang rape, armed robbery, and physical torture that majority of them suffered in the hands of the xenophobic Libyan rebels.
One of the returnees, Paddy Irete a student of Civil Engineering at the Federal Polytechnic Auchi, Edo state who reportedly abandoned his Higher National Diploma program mid-way in search of the proverbial but elusive greener pastures in Libya early last year, told the media that many Nigerians and blacks in Libya were principal targets of the rebels because they believed that the now murdered dictator Colonel Muamar Gaddafi recruited blacks to fight his compatriots who wanted his 42 year tyranny ended.
Amid these genuine complaints from stranded Nigerians and other black Africans that they are undergoing tumultuous xenophobic attacks from the rebels who have taken over political power, the Nigerian government has failed to galvanize the African union to convoke emergency session to brainstorm on measures to be adopted to ensure that the growing racism in Libya and the targeted extinction of all blacks in that country is brought to an effective end.
The Nigerian government has therefore abandoned the hundreds of thousands of stranded Nigerians in Libya to their unfortunate fate. The neglect by the Nigerian government of its constitutional obligation to protect the citizenry who are caught between the devil and the deep blue sea in Libya is a gross human rights violation committed by the state against her citizens and a breach of the citizen diplomacy doctrine.
As a member of the international community, the Nigerian government is under a legal obligation to respect, protect and fulfill human rights of the citizenry globally.
Experts have repeatedly canvassed the logical position that from a legal standpoint, human rights can be defined as the sum of individual and collective rights recognized by sovereign states and enshrined in their constitutions and in international law.
The question that begs for an immediate response is why the Nigerian government has up until this moment failed to concretely take action to protect the fundamental rights of her citizens who were unfortunately caught up in the civil conflicts in Libya and are currently subjected to horrendous regime of targeted abuses, humiliations, physical attacks and extra-legal execution in the hands of the new big boys in political power in Libya who wrongly believe that all black Africans were hired mercenaries of the now murdered dictator Colonel Muamar Gaddafi.
Nigeria ought to have initiated transparent probe of these groundswell of allegations of human rights violations in Libya through the nation's embassy in Tripoli even as the nation ought to have current and reliable data of the Nigerians that live outside our shores and their legal status in such foreign countries.
The concept of 'citizen diplomacy' was couched by the Olusegun Obasanjo's civilian administration from section 19 of the Nigerian constitution which clearly spells out Nigeria's foreign policy objective as the promotion and protection of the national interest.
What then is more of our national interest than ensuring that Nigerians in all parts of the world are treated with dignity and offered the universal plat form for the promotion, protection and safeguarding of their fundamental human rights as human beings and members of the civilized global village?
The sad tales as told by the hundreds of Nigerian returnees from Libya show that the Federal government has clearly abnegated from her constitutional and legal obligations to protect the rights of Nigerian citizens in distress. On October 25th 2011, The Guardian Captured the story of the experiences encountered by about 250 Nigerians who spent months in the notorious deserts to return to Nigeria from the then war ravaged Libya.
Citizen diplomacy as the new approach to Nigeria's foreign policy ought to have evolved to such a time that Nigeria will become attractive to not only Nigerians but even to foreigners who would view Nigeria as the most favoured tourism point to visit. But the reverse is still the case so much so that hundreds of thousands of Nigerian youth who ought to stay back home, develop their human capacity and skills to build Nigeria, are now jumping ships to travel to foreign territories even without valid immigration document.
Nigeria has become so unfriendly and economically inclement to her younger citizens that hundreds of thousands of young Nigerian girls are sold into modern day prostitution rings in Italy and other Western European Countries whereby they are subjected to all manner of human rights violations.
What has happened to the doctrine of citizen diplomacy introduced by the immediate past people Democratic Party's federal administration so much so that Nigeria is still ranked as one of the worst nations to live in?
The Economist reported in February 21st 2011 that VANCOUVER remains the most livable city in the world, according to the latest annual ranking compiled by the Economist Intelligence Unit. The Canadian city scored 98 out of a maximum 100, as it has done for the past two years.
The ranking scores 140 cities from 0-100 on 30 factors spread across five areas: stability, health care, culture and environment, education, and infrastructure. These numbers are then weighted and combined to produce an overall figure. The top ten cities occupy the same positions as last year, with the exception of Melbourne and Vienna, which have swapped places.
Cities that score best tend to be mid-sized cities in wealthier countries with a relatively low population density. This often fosters a broad range of recreational availability without leading to high crime levels or overburdened infrastructure. Seven of the top ten scoring cities are in Australia and Canada, where population densities of 2.88 and 3.40 people per sq km respectively compare with a global (land) average of 45.65 and a US average of 32.
At the other end of the ranking, Harare, the capital of Zimbabwe, is in 140th place, thanks to particularly poor scores for its stability, health care and infrastructure.
Nigeria's ugly position as one of the worst places to live on earth remains a far cry from the aspirations of our citizenry who had hoped that with several billions of United States dollars earned by Nigeria from crude oil export in the last couple of years would have been used to transform Nigerian cities into favourable cities for human habitation.
Alas! corruption, greed and weak legal enforcement of anti-graft legislations in Nigeria have combined to make Nigeria hostile to her citizens so much so that 'citizen diplomacy' has become a mere artificial cliché that is so notoriously irrelevant so long as the negative factors are not quickly reversed because citizens are forced into irregular migration to escape the overwhelming weight of poverty, unemployment, high crime wave and insecurity in our motherland.
Duncan Clarke in his widely acclaimed book "Crude Continent: the struggle for Africa's oil prize", stated that "As oil developed, so corruption expanded in favour of middlemen, commission agents and those close to central power, especially within the state company, the Nigerian National Petroleum Corporation (NNPC)".
Only recently, the National Assembly discovered that several billions of tax payers fund running to over N400 Billion, grew wings and disappeared in the last one year in the Nigerian National Petroleum Corporation [NNPC]. With these type of monumental frauds not tackled radically, how can the doctrine of 'citizen diplomacy' work?
** Emmanuel Onwubiko writes from Human Rights Writers' Association of Nigeria and can be reached on [email protected]
Disclaimer:

"The views/contents expressed in this article are the sole responsibility of

thewillnigeria.com

and do not necessarily reflect those of The Nigerian Voice. The Nigerian Voice will not be responsible or liable for any inaccurate or incorrect statements contained in this article."
Articles by thewillnigeria.com