Sylva`s Disqualification: Governors' Forum Dispute PDP Statement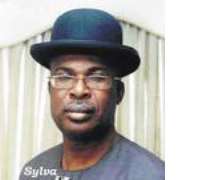 Huhuonline.com / understands that the disqualification of Governor Timipre Sylva from contesting the gubernatorial primaries under the platform of the PDP, has pitched the Governors' Forum against the National Working Committee of the People Democratic
 Party (PDP). To this end, the governors converged in Abuja, Monday, for an emergency meeting, to ascertain if the National Working Committee of the PDP unanimously issued the statement that sealed incumbent governor's fate.
According to a source, who pleaded anonymity, 'the governors' forum has clear and convincing evidence that the PDP statement on Sunday, which disqualified Timipre Sylva, was the handiwork of some biased party chieftains, who had an axe to grind with Timipre Sylva. It was a reaction to the governor's public declaration of his interest to contest 2012 governorship elections under the party platform', he said.
The statement, issued by Prof. Alkali, National Publicity Secretary of the party, reads:
'The National Working Committee of the Peoples Democratic Party (PDP) has concluded the review of the reports of the Screening Committee and Screening Appeal panel for the gubernatorial primaries in Bayelsa State scheduled to hold on the 18th of November 2011.
'After a thorough review of the two reports, and after a painstaking examination of all the issues raised about each and every aspirant, the NWC has cleared seven out of the 11 aspirants that purchased forms to contest for the primaries. Those who were cleared and shall contest the gubernatorial primaries are the following:
 
    I.       Orufa Justine Boloubo
 
    II.      Dickson Seriake Henry
 
    III.     Enai Christopher Fullpower
 
    IV.     Kalango Michael Youppele
 
    V.      Francis Amaebi
 
    VI.     Ekiyegha Francis Korobido
 
    VII.    Austin Febo
 
However, in this last and final batch, four of the aspirants did not scale through the Party screening process and have therefore not been cleared to contest the primaries. Those not cleared are.
 
I.        Alaibe Ndutimi
 
II.       Ben Murray Bruce
 
III.      Timipre Marun Sylva
 
 IV.      Igali Godknows Boladet.
 
'All Members of the Party, especially stakeholders in Bayelsa State should note that this is the final decision on the status of all aspirants for the forthcoming Primaries. All efforts should now be geared towards mobilizing Party members for the forthcoming primaries and Elections in the State.
 
'In view of the forgoing, all those aspirants whose names appear in Para 2 above will be dully issued with final Clearance Certificates to enable them stand for the forthcoming primary elections. For the avoidance of doubt, and in line with the provisions of our guidelines for primary elections, no aspirant can or should use a provisional certificate as a basis for unilaterally declaring himself or herself as a candidate of Peoples' Democratic Party for the gubernatorial election in Bayelsa State. Even where he or she does so, it is of no value, effect or utility for the primary elections and is therefore redundant.
 
"The NWC wishes to reiterate it's commitment towards enforcing discipline within the ranks of the Party at all levels.
 
'We shall therefore not hesitate to invoke disciplinary measures on any member who disregards lawful Party directives or who engages in acts capable of undermining the Party's cohesion or initiates and takes any step that could lead to the breaching of public peace'.