Blast Targets Shettima's Home Coming Motorcade In Maiduguri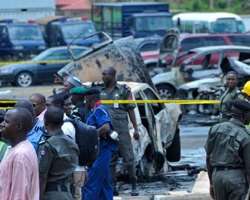 SAN FRANCISCO, November 14, (THEWILL) – An IED went off today in Maiduguri targeting the convoy of Borno State, Alhaji Kashim Shettima of the All Nigeria Peoples Party (ANPP), who had just returned to the state from Abuja after an election petition tribunal affirmed his election as governor of the state on Sunday.
The explosive devise which went off near a police patrol van did not destroy the vehicle or cause any injuries. It however left people who had filed out to receive the governor scampering for safety.
It is suspected that extremists belonging to the Boko Haram sect orchestrated the failed attack.
Shettima had arrived at the Maiduguri airport at about 3.28pm and was heading to government House via Airport-Bulunkutu Road when the explosive said to be in a canister was thrown at a security vehicle parked along the road. It went off just before the governor's convoy reached the area.
Borno State Police Commissioner, Mr. Simeon Midenda confirmed the failed attack saying, it was the tight security measures deployed by security operatives that frustrated the attack on the governor.
The incident however did not stop the governor and his supporters from taking in their victory at the court. He waved to supporters in the city as his vehicle drove into the safety of government house.
Boko Haram, which is often translated to mean "Western education is a sin", wants Islamic law enthroned in the entire northern states of Nigeria, which also boasts of a sizeable number of Christians.
The sect has carried out several fatal attacks including two notable suicide attacks at the police force headquarters in Abuja and the UN building also in Abuja where several persons were killed.