READERS SOB OVER T.A. ORJI'S PARANOIA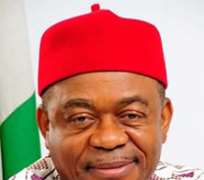 True leadership offers no hiding place to those who lead. The catchphrase is that those in positions of authority should walk the job. That means accentuating the positive, do things that elevate, learn about people, and what they think. Unfortunately, many political leaders in our country don't follow this wise counsel.
They scoff at it and assume they are all-knowing. No one is, except God. The very moment Governor T.A. Orji of Abia state took the gun and fired all non-indigenes in the state public service, he touched the hornet's nest.
Without knowing it, he has murdered sleep. But, we pray he should be allowed to sleep in peace. But, a preponderance of readers' reactions clearly indicates that's one of the most bizarre decisions any politician with an eye on the future can ever contemplate, talk less implement. But, T.A. Orji has become somewhat like a Teflon, a man soaked in his own controversy. Was it a decision informed by self-interest or lack of political maturity or both? Can T.A. Orji think again? A summary of the reactions that follow demonstrates one simple truth: the absence of good leadership cannot lead to any legacy worth remembering. Excerpts:
T.A. Orji is also 'killing traders'
Mr. Dan, your write up on Gov. T. A. Orji's paranoia is hitting the nail on its head. It's nothing but he truth, and I commend you for your courage. Governor Orji has not only sacked non-indigenes, he has currently imposed a compulsory levy of N2000 (two thousand naira) on every trader at Ariaria market, Aba. This particular market has no access road. Last year, we, the traders, were forced to pay N1000 each as 'infrastructural development levy', but nothing was done with the money his administration collected from us. Up till now, the roads leading to Ariaria have not been repaired. This man is killing us.
From Chris, Aba,
This man has no bearing
The administration of Governor T. A. Orji has no bearing. And your write up captures the failure of his government. I do business in Uyo, Akwa Ibom State and there people are asking: What's this man doing in Abia State? I don't know.
From Cyril Offor
Uyo
He is heartless
Dan, after reading your opinion on Gov. T. A. Orji's paranoia, I was angered the more with his government and the action of a man who claims to be a leader. Journalists should not relent in their efforts because the pen is sharper than the sword. I know what those he has sacked are going through because I have been in that shoe before.
From Mr. Jombo
He has mortgaged the future of Abians
Mr. Dan, I like the way you write, so philosophical and so spiritual. You see, the casualities of Governor T. A. Orji's 'back loading' are not necessarily those who have lost their jobs, they are Abians and their future generation who will no longer walk confidently and freely along the streets of Owerri, Enugu, Awka, Abakiliki, etc. it is terrible.
Rowland Ibecheozor
We don't need a man like
After reading what Gov. T. A. Orji has done to his fellow Igbo, I ask; where is the Igbo spirit of brotherhood? Is this how the Biafran state will be formed? What is the rationale for the sack of non-Abians? What are the compensatory mechanisms for those he has caused this trauma? Where these people not adding their professional skill/value to the development of Abia State? Certainly, we don't need a man like this at the helm of affairs in this country.
From Austenol
Not the way to Govern
Mr. Dan, after reading your opinion on Gov. T. A. Orji, I felt relieved that somebody, somewhere, is siding with the depraved and is quite uncomfortable with the age-long racism that is practiced in Abia. It is pertinent to state here that this unwholesome policy of Gov. T. A. Orji is so widespread in Abia. It is even worse in Ngwa land. Ohaneze Ndigbo, a body that ought to address issues such as this one appears to be so docile and myopic as to fathom the inherent dangers in regarding fellow Igbo in such derogatory terms as Nwa Ohuhu. The sacking of fellow Ndigbo in Abia state is to me, the most unpopular action that this government of T. A. Orji can never surpass. It is a sad commentary of how not to govern.
From Humphrey,
Abuja.
The worst is yet to come from T.A. Orji
Let nobody be shocked. Gov. T. A. Orji has finished yet. Don't shocked by any order call it decree from him that all Abians whose spouses are not indigenes should leave the state. He does not think about the futre. This is just the beginning of the downfall of an inexperienced and greedy man in authority. Mark word.
From Odiari.
Onitsha.
What T. A. Orji should do!!
Mr. Dan, why are you surprised? I am not, because the problem of T. A. Orji is well-known to everybody who knows him and his background. He should go back to his political godfather, Chief Orji Uzor Kalu who threw him up in the first place, and confess his 'sins' before more calamities fall him.
From Tony, Nnewi
Who will call him to order?
Gov. T. A. Orji action against non-Abians is simply not a welcome development and should be condemned by all. It's unacceptable in the eyes of any right thinking person. The Governor should reverse this decision. Abia state is endowed with natural resources which a creative governor can harness to pay the so-called minimum wage for workers rather than depending on Federal allocation and this obnoxious policy of sacking non-indigenes. With a man as this, how can South East move forward when there is this kind of discrimination. Elders in the south East ought to call this man to order now before he does further harm.
From Chika Nnorom
Abia.
Dear Mr Dan,
I just read your article on the above subject; it is indeed heart touching. No one would have expected a public office holder to take such an awful decision at a critical as this, or at any other time. My thought goes to all who have been affected by that and I pray the find pasture soonest. The article will be a source of hope, strength and comfort to many. It would also be nice if you could find a way to bring the article to national discuss.
Kind regards,
Kodak Emerson
Oga Dan,
I want to thank you for your honorable article. You are doing great job, I wish I have the telephone number to Mr. President. That will enable me tell him personally on the critical issues facing our country. Some of our rich politicians in the national assembly do not have an idea of creating a good quality job opportunities for our young graduate. This is the time of transformation that Mr. President put on his manifesto. A time of great to greatness. Why should we debate on what to do with our fuel! Our natural resources that God bless us with.
Ebere Obi.
Owerri.
I read your write-up of Sun newspaper of Tuesday, 8th Nov. 2011 with utmost attention but with great displeasure of Gov T.A ORJI'S actions. I would say that he lacked the political will power to govern Abia State. As it rightly said, you can't give what you don't have so, it is not surprise to me of his inhuman actions. His political jobbers are applauding his inefficiency, forgetting that when God's tsunami will come his way, he will remember that man is GOD to man. Oga Dan don't be tired of this for your articles have been a succor to many especially to those sacked by an unruly actions of an ingrate like Gov T.A Orji. GOD bless you sir.
Jombo, Solomon Mbakwe,
Oguta LGA
T.A. Orji's victims can sue
Your piece on T.A. Orji hit the right cord. But, don't you think these 'backloaded' workers can write and sue Abia government. I believe they (workers) can easily win the case.
From D.T.
0812576519