Gulf Demand Lifts Dubai Air Show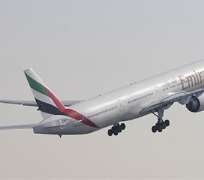 The world's top planemakers issued bullish forecasts for demand from the Middle East on Monday, underlining the region's importance to the industry a day after Boeing (BA.N) unveiled a blockbuster deal to sell 50 of its 777 jetliners to host airline Emirates.
The U.S. company predicted that airlines in the Middle East would need 2,520 airplanes worth $450 billion by 2030, while its European rival Airbus (EAD.PA) said it saw demand for 1,920 aircraft worth $347 billion in the same period.
"We believe that our customers will have the ability to weather the storm in Europe and the Middle East is booming," Habib Fekih, president of Airbus Middle East, told Reuters.
The forecasts and Emirates' $18 billion order for 50 wide-body Boeing jets boosted the showcase event and pushed talk of global recession to the sidelines -- though analysts said getting aircraft financing was proving an increasing challenge.
Qatar Airways was expected to give the final word on possible Boeing and Airbus orders at the show while sources familiar with the matter said Abu Dhabi's Etihad had struck a $2.5 billion deal for 12 Boeing jets on the show's sidelines.
The Gulf's big three are buying wide-body aircraft to serve Asia and the United States and redraw the world's transport and logistics map with the Gulf at the center, thanks to its ability to reach most of the world's population in one long-haul hop.
Kuwaiti lessor Alafco (ALAF.KW) placed a $4.6 billion expanded order for 50 Airbus (EAD.PA) A320neo passenger jets, adding to the flood of orders.
Middle East demand makes up 8 percent of anticipated global aircraft demand over the next 20 years but 11 percent by value.
Tinseth said the UAE alone could soak up 1,000 aircraft deliveries in the next 20 years as they access foreign markets.
Alafco's chairman Ahmad Al Zabin said he was not greatly concerned about economic turmoil in Europe derailing long-term aircraft demand, especially in the Middle East.
"We are talking long term; what is happening now is short term," he told a news conference.
The expansion has provoked sharp exchanges between Gulf carriers and European airlines which accuse the region's carriers of expanding on the back of subsidies, something they deny.
"The three big Gulf airlines are attacking other people's traffic. They are converting oil wealth into an aviation market position," said aerospace analyst Richard Aboulafia of Virginia-based consultancy Teal Group.
Gulf airlines say they simply operate a better service, but geography is also on their side.
The Gulf region is reachable from nearly every major city on earth in a single flight given the range of modern jetliners, making it a natural global hub for passengers and cargo.
DOLLAR FINANCE TROUBLE 'SHORT TERM'
Airline chiefs played down the risk of contagion from Europe's debt crisis, but the head of Boeing's commercial division said it was a "watch item" and Brazil's Embraer trimmed a forecast for business jet deliveries due to the downturn.
Still, the sales chief of Airbus warned that European lenders, especially French banks, which have been major financiers for Middle East carriers' deals, have become risk-averse because of the eurozone debt crisis.
"We are watching it carefully," John Leahy said at a news conference. "We have done some aircraft financing in euros. Some European banks are having trouble accessing U.S. dollars ... this is more of a short-term thing than anything else."
Record sales of the Boeing 777 capped by the Emirates announcement, which was attended by the ruler of Dubai, could force Airbus to do another rework of its future A350, Aboulafia said.
Few if any A350 orders are expected at the show, but sales chief John Leahy said he felt under no pressure to drum up new sales for the aircraft, whose development has been delayed.
The biennial November 13-17 takes place amid rising international tensions after a United Nations watchdog report expressed concerns over possible military dimensions to Iran's nuclear activities, which Tehran calls entirely peaceful.
"On the military side, Iran is always a factor that is the number one security threat to the (Gulf Arab) states," Theodore Karasik, the Director of Research and Development at the Institute for Near East and Gulf Military Analysis, said.
No major military deals have been signed at the show but contractors believe security concerns and Gulf support for operations in Libya could boost sales to the region.
Andrew Shapiro, U.S. assistant secretary of state for political and military affairs, was among a large U.S. delegation visiting the show to support U.S. allies.
"We want to work with them on all their security needs and one of the reasons I am at the show is to meet with many of our partners to talk about ways in which U.S. companies can fulfill their defense needs," he said.
"It doesn't hurt. These are serious governments and serious partners of the United States and Boeing," said Jeff Johnson, President of Boeing Middle East.
REUTERS