3 MOVIE STARS SURVIVE AUTO CRASH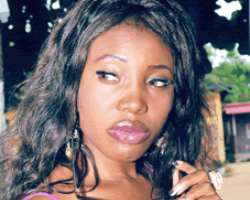 What would have been another tragedy was averted few days back as three popular movie acts Chita Agwu,Chinwe Isaac and Port Harcourt based actress Ese miraculously survived an auto crash at Ijebu Ode,Ogun State.
It was gathered that these talented actresses who of recent has become the choice of movie makers in Asaba,hence their frequent trips to the serene city where they are involved in movie productions,were on their way back to Lagos from Asaba after shooting a movie when the Hyundai black Jeep owned by one of them,Chita,which was conveying them and driven by the driver,ran into trailer.
It was gathered the driver in a bid to avoid a ditch veered off the road and went out of control.
They were hurriedly rescued by passers by and rushed to a nearby Hospital in Ijebu Ode where they were admitted for days.
The thespians have been discharged from the hospital and are now full of thanks to God for saving their lives,especially in this era of deaths in the industry.
They held a special thanksgiving on Sunday with family and friends.