OIL SUBSIDY REMOVAL: CBN, NNPC, NPA, PETROLEUM MINISTRY, OTHERS IGNORE SENATE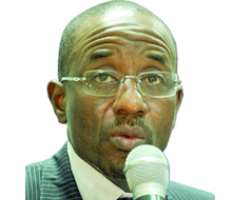 Governor of the Central Bank of Nigeria (CBN), Mallam Sanusi Lamido Sanusi, Group Managing Director of the Nigerian National Petroleum Corporation (NNPC), Mr. Austin Oniwon have ignored a directive to appear before the Senate on government's proposed removal of oil subsidy beginning from 2012.
Senate invited them to give details on the procedure for administering the current fuel subsidy scheme of the Federal Government. Others who were summoned but who had also ignored the Senate directive to appear before its Joint Committee on Petroleum Resources (Downstream), Appropriations and Finance are Petroleum Resources, Mrs. Diezani Alison-Madueke Chief of Naval Staff, Rear-Admiral Ola Sahad Ibrahim, Comptroller-General of Customs, Dikko Abdullahi and Managing Director of Nigeria Ports Authority (NPA).
Only Finance Minister, Mrs. Ngozi Okonjo-Iweala, appeared before the committee on Novwmber 1. She did so without submitting any document to the committee.
Another meeting convened last Wednesday did not hold because there were no documents for the committee to work with. It was learnt that the meeting was thereafter postponed. Daily Sun, however, gathered from sources close to the the joint committee that having hit a brick wall in getting documents and details relating to the subsidy from those invited, 'the committee decided to take the matter to Nigerians to decide.
At the public hearing, all Nigerians will have the opportunity to decide whether they want the subsidy removed or not.' Consequently, the committee had decided to hold a public hearing on oil subsidy removal on November 22. To that effect, all the invited ministers and the parastatals had been issued 'a fresh 72- hour ultimatum before the public hearing to furnish the committee with the details since they are unwilling to bring the documents before now.'
Meanwhile, only the Petroleum Products Pricing Regulatory Agency (PPPRA) had submitted details regarding the subsidy to the joint committee.