Algeria Confirms Boko Haram And Al Qaeda In North Africa Ties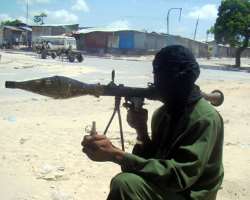 SAN FRANCISCO, November 13, (THEWILL) - The Algerian government Sunday said available intelligence reports confirm that extremist Nigerian Islamic group, Boko Haram has linked up with al Qaeda in the Islamic Maghreb (AQIM) which has its North African headquarters in Algeria.
The revelation confirms Nigeria's intelligence services assessment and worries that the previously unknown group has received training and support from al Qaeda.
Algerian Deputy Foreign Minister, Abdelkader Messahel told journalists that intelligence report show both groups have been coordinating.
"We have no doubts that coordination exists between Boko Haram and al Qaeda.
"The way both groups operate and intelligence reports show that there is cooperation," Messahel said according to Reuters.
Boko Haram has killed dozens of people in Nigeria, and Western security experts say any link-up with al Qaeda in the Islamic Maghreb (AQIM) could make it a more potent threat, especially to Nigeria's energy sector.
A faction of the group in Nigeria which has ruled out negotiations with the Nigerian government has claimed responsibility for several attacks including the murder of a state television journalist in Maiduguri, Borno State.
The group killed more than 65 persons in well coordinated attacks during the Sallah holiday in Damaturu, Yobe State. It also claimed responsibility for the suicide bombing of the United Nations headquarters in Abuja a few months ago, its second suicide attack in Nigeria.
AQIM grew out of a conflict in Algeria between the government and Islamist militants. In the past few years it has expanded its activities to include Mali, Niger and Mauritania but was not thought to have reached as far south as Nigeria.
AQIM's trademark attack is using suicide bombers for deadly attacks. Nigeria's first suicide attack was recorded when a vehicle trailing the Inspector General of Police exploded in the police force compound killing the bomber and some policemen.
Algeria's assessment of ties between AQIM and Boko Haram carries authority because Algeria has the biggest intelligence-gathering operation on al Qaeda of any country in the region.
The Algerian deputy foreign minister said that in light of the ties between Boko Haram and AQIM, Nigerian officials were scheduled to attend a regional summit in Mauritania in December to coordinate the fight against al Qaeda.
French Foreign Minister Alain Juppe weekend pledged his country's support in the fight to crush the sect.
The United States is also training Nigerian military personnel in counter-terrorism. The US is also providing intelligence.
** Additional report courtesy of Reuters.