…ACHEBE REJECTS NATIONAL AWARD AGAIN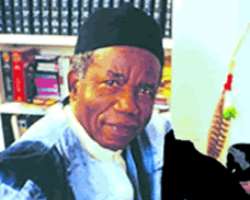 As many prominent Nigerians file out tomorrow to receive this year's National Honour, renowned writer and author of Things Fall Apart, Prof Chinua Achebe has again turned down the offer.
The author, who is among 364 nominees would have been honoured with the Commander of the Federal Republic – Nigeria's third highest honour.
In turning down the offer, Achebe said 'the reasons for rejecting the offer when it was first made have not been addressed let alone solved. It is inappropriate to offer it again to me. I must therefore regretfully decline the offer again.'
This latest nomination comes after Achebe in 2004 rejected the same honour by the then President Olusegun Obasanjo. He based his reason then on the dangerous state of affairs in Anambra, his home state and the country in general. In his two-page letter about rejecting the honour published in Nigerian newspapers in 2004, Achebe was most scathing about the situation in Anambra.
'A small clique of renegades, openly boasting its connections in high places, seems determined to turn my homeland into a bankrupt and lawless fiefdom. 'Anambra state governor, Chris Ngige was last year kidnapped and forced to write a resignation letter at gun-point', he had said. He added: 'Nigeria is a country that does not work-Schools, universities, roads, hospitals, water, the economy, security, life'.
Achebe had told the media that he hoped that rejecting the Commander of the Federal Republic would serve as a 'wake-up call'. It will be recalled that the then Special adviser to President Obasanjo, Femi Fani-Kayode, told the BBC that Achebe had the right to reject the award, claiming that the author had lost touch with some of the events in Nigeria.