FAMILY OF SEVEN SURVIVES BOKO HARAM HELL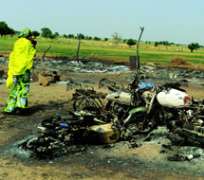 A staccato of gunshots and deafening explosions disoriented the tranquility of Damaturu on Friday, November 4. The continuous and unending sound heralded the dastardly attack on the capital of the northern eastern state of Yobe by the dreaded fundamentalist sect, Boko Haram, that fateful day about 5:30pm. The well-coordinated onslaught lasted more than four hours and left in its wake no fewer than 100 dead. At the time of filing this report, bodies were still being picked from bushes.
A large number of residents, particularly Christians and non-natives, have already fled the state despite the heavy presence of soldiers and combat-ready policemen in virtually every nook and cranny of the state. Residents have also fled Gashu'a and Nguru town, apart from Potiskum, the commercial nerve centre of the state, which also came under severe attack.
Churches at the New Jerusalem area of Damaturu and private property were burnt. According to the Christian Association of Nigeria (CAN), 11 church buildings were destroyed while the number of non-natives killed was yet to be ascertained.
The new police headquarters and the temporary headquarters were also not spared, including the office of the Anti-Terrorism Squad, which the suicide bombers penetrated. Surrounding buildings crumbled due to the effect of the heavy blasts.
The financial institutions had their share of the assault. The First Bank Plc and the United Bank for Africa (UBA) structures in Damaturu were attacked, but it could not be confirmed if the attackers went away with cash.
Mr Jude Adindu, a Damaturu-based businessman from the South East, narrated how his family survived the worst onslaught of the Islamist sect since it began its attacks in some northern states two years ago.
Mr Adindu lives opposite the Anglican Communion Church, which was attacked with explosives. According to him, he was inside his apartment with his family when they heard a loud noise on the roof and before they knew what it was, the whole building was on fire. They miraculously escaped from the inferno, which consumed his two-bedroom flat.
How it started
According to Adindu, he was in the room with his children that fateful day when his wife ran in crying that the state capital was on fire and that people were running helter-skelter.
'I decided to stay in with my family amid the confusion because I thought it was the best thing to do at that time in order to avoid stray bullets. I started hearing gunshots and the sound of the bomb blast increased until I discovered that nearby churches were being attacked with heavy guns. I heard the first blast around the NNPC Mega Filling Station before those of the churches around 6:30pm.
How we escaped
Adindu explained that he told his wife and children, all of them seven in number, to lie on the floor. Not long after, he had a bang on the gate of his compound. He said the gate was destroyed with gunshots and through his window he saw some persons pour petrol on the roof of the house and then set it on fire.
'When the heat of the fire became intense and I discovered that the people were still around, I told all of them to bear it until the roof started falling with fire. Everywhere was filled with smoke such that I could no longer see. But we remained like that hoping for a miracle. My instinct told me that they had left and I came out with my wife and children and other boys that worked with me. It is a miracle that we survived it. When we came out, we ran to a neighbour's compound and stayed there till 11:30pm before I called a friend and we ran into his house for the night.
'My little children have never seen such horror. It is not good for their age. I pray that such will not happen again.'
What I lost
Adindu said he could not quantify all he lost. 'I lost some good friends that were killed. I lost my children's birthday pictures, documents and my wife's certificates. I lost my house, which I laboured to build as well as the N485,000 from sales that I was supposed to deposit at the bank for Coca Cola.'
He said he had lived in Damaturu for 19 years and considered the place his home hence he gave birth to all his children in Yobe.
'Now I have lost everything, but I thank God for the lives of members of my family.'
What government should do
'I think the government needs to take a critical look on areas of grievances to quickly address them if it wants Nigeria to remain the way it was those days. Many people have left the state and it is not good because it will affect national unity. Government should compensate families of victims of this unfortunate incident and all those who lost their property should be assisted. Look at me, I don't have anything again. All the members of my family have gone back to the village.
'Enough security arrangement should be put in place to allay people's fear, because the experience was a terrible one even for little children that know nothing.'
Boko Haram should show mercy
'I don't think I have offended anybody to suffer this. I am appealing to Boko Haram consider the joy and happiness of living together as one.'
He called on the government to bring the Boko Haram sect to a roundtable.