I'm open to Nollywood, says Christy Williams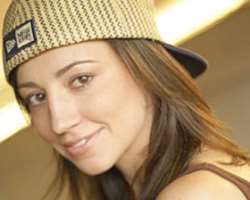 Christy Williams is one of the upcoming actresses in Hollywood that is breaking new grounds in her chosen career. As a young actress, Christy holds a lot of promises for her generation, having spent only three years old in the film industry. She's one of the casts that featured in Nigerian Stephanie Okereke's award-winning movie, "Through the Glass", which was shot in America two last year.
Christy is one of the guests that will witness today's premiere of the movie, at the Silverbird Galleria, Lagos. In this encounter, the Hollywood actress shares her passion and dreams about featuring in Nigerian movies.
My acting career
I'm Christy Williams, I was born in Los Angeles. I grew up there and started working some three years ago. Coming to Nigeria is an adventure for me.
It gonna put me in the picture of Nollywood. I'm an actress in Hollywood. I have featured in about five movies in Hollywood. Acting is something I really love doing. I trained as an actress. But besides acting, I'm also a writer. Acting in Steph's "Through the Glass" marks a turning point in my acting career. It's great inspiration for me because it's the first major movie that I have done.
How I got involved in the movie(Through the Glass)
Actually, I did a show with another young Nigerian artiste, who introduced me to Stephanie. Steph invited me over, where after our discussion I was offered a role in her movie. That's how I got to know about Nollywood.
Watching Nigerian movies
None, before now, I have known nothing about Nollywood or Nigerian movies. Steph's movie have really exposed me to the African movies. She has a passion to get Nigerian films into the rest of the world. As for my personal experience, I didn't know anything about the existence of Nollywood until I met with Stephanie . Now that, I'm aware I gonna see how to be involved in Nollywood movies.
Nigerian film industry
I think, Nigeria have got the talent. The actors and actresses in Nigeria are extremely good, and I think, there's need for them to begin to compete with their counterparts across the world. The outside world should reason to be start collaborating with Nigerians in the area of film making.
Between Hollywood and Nollywood
Hollywood has got a huge market. I don't know how to compare Hollywood with Nollywood except the fact that Hollywood is a more vast film industry than Nollywood. You can behold American films anywhere in the world which is not peculiar to movie made in Nigeria. I think, that just the major disparity.
Playing nude in Nigerian movie
I will certainly be open to it, depending on the script. Now that I have had a contact with Nollywood, I will definitely be open to it. I'm very much prepared to feature regularly in Nigerian movies.
Played nude before
Nude! None. I have not been opened to nude films before, but it depends on the script, the story and the situation. I'm not usually open to posing nude in movies even in Hollywood. But it all depend on the project. That's all I can say about it.
About telling the African stories
I believe that African movies are as good as any other movies from the outside world. But the problem is that most movies are released on DVD, rather than going to the theatre and cinema, which is the normal practice in the United States.
Every movie that hits shelves in American is firstly released in the theatres. It's part of the people's culture to go to the theatre to watch the latest movies in town. I don't think, such practice is encouraged in Nigeria.
Movies I have featured in
I have done a couple of movies in Hollywood. Though I'm only three years old in the industry. Some of the movies include, "An American Carol' directed by Rick Rosenthal, "Through the Glass" by Stephanie Okereke, "Duel of Legends" by Destiny Entertainment Productions and "Crow" which was directed by Clara Aranovich. I also did some television series such as "Sleeper Cell: American Terror",
"Boston Public' and "Exposition Expedition" amongst others.