HOW GOVT CONNIVE WITH OIL COMPANIES AGAINST SUFFERING COMMUNITIES - MITEE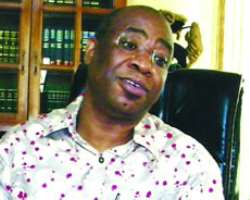 Mitee
Leader of the Movement for the Survival of Ogoni People (MOSOP), Barrister Ledum Anazor Mitee, has warned the country's leadership not to take the youth for granted.
He said that the continued neglect of the youth is dangerous, as what happened in North Africa has shown that they could revolt and the crisis would consume the leaders,
Mitee said that the Boko Haram and militancy problem is a result of high unemployment. He wants the youths to be gainfully engaged, so that peace would reign.
On compensation of communities for oil spillage, he said that government connive with oil companies against the people.
He spoke on these and other things.
The Goodluck Jonathan government is establishing nine new federal universities at a time when some people are saying that the government is not taking care of the existing ones. What do you think?
I have no problem with how many universities government wants to set up; maybe they want to address the number of applicants, but beyond that, what are we doing about facilities? How many of them are worth their salt and have facilities? In some of the schools, programmes are not accredited. We should start to rationalise and set up universities, which will be centres for excellence. Why can't we have, let's say medical schools in two or three zones, and enhance them with facilities, so that the school will be good in a particular discipline? We don't need to set up universities in every village.
Going by the poor state of facilities in our universities, one will like to propose that we need to rationalise. In many universities, students stand up to take lectures; students write examinations standing up. There's no reason these universities can't merge. Some states have two universities and none of them will have the requisite facilities. Why can't they merge to become one, so that the facilities will be there? I will suggest the rationalisation of faculties.
Recently, Aba residents cried out over state of federal roads. What do you think about their complaint?
I think, more than ever, that we need to first ask the basic question: how many contracts have government awarded? Also, how much has been spent on some of those roads? For instance, I can't remember how many contracts have been awarded on Benin-Lagos road. I don't know why those contracts are not done. We deserve to know the provisions on those contracts. Why are the contractors not sanctioned when they don't perform? Why are the people not punished? If the contractors have taken money and did not perform, why can't they go to jail? If provision has been made in the budget and the contractors are not paid, why is the person sitting on the budget not punished? Unless we start punishing people for inaction, we will continue to falter. When a new government comes, it awards its own contracts. The next government will also award its contacts, and we are not asking the basic questions of what is happening.
A time has come when we should take stock, from 1999 when the civilian government took over from the military, to know how much that has been voted for roads, how many kilometres of those roads have been don. If we assign responsibilities, and do not punish those who fail to do the job, contracts will be awarded and the job won't be done. That seems to be the basic problem.
What do you think about development of Niger Delta?
There is a paradox there. If you set up agency to be a patronage, we should be realistic to ask what they are set up to do. Some times when I said this, some people are shocked and if the agency's performing as a patronage machine it will be wrong to judge it as an interventionist agency. Some of the interventionist agencies I see are what I call political billboards. Sometimes they want to show that they are doing some thing. Take NDDC and OMPADEC, for instance. These are agencies, which are supposed to help in development. They came about because those who are affected and afflicted by oil exploration were not benefiting from government. The Federal Government wanted to deal directly with these communities through the agencies. But when OMPADEC was created, it was as a patronage machine. It was an avenue for those in power to put in their cronies and gave them responsibilities. They were exploiting without regard for the communities.
I think one of the best laws that have ever been made in this respect was Degree 23 of 1998 by former Head of State, General Abdulsalami Abubakar. The law charged OMPADEC to work according to the needs of those communities, provided that each of the communities will provide its CDC, which will now decide what their projects would be. Soon after the Obasanjo administration came on board, instead of looking after the benefit of that law and take the bottom approach, which the law provided for, they set up NDDC as an agency of the Presidency. So, the presidency hijacked what is supposed to be people's thing. It's the same thing with the Niger Delta Ministry. There's a misconception; people believe that the ministry should develop Niger Delta. It means that the ministry of health should not come to Niger Delta, likewise ministry of works and ministry of education. We thought they should have a specific role in those areas. When I sat as a technical committee chairman on Niger Delta, we came up with one big role for the NNDC and Niger Delta Ministry. It depends on who sets up the agencies and what he wants to achieve. If he wants to please political associates, then that is what it would be. If he wants to solve the problem of the area, it will be so. I don't think they have brought life to those agencies.
One of the biggest problems of Nigeria is electricity. What does it take to generate enough power in the country?
At the rate we are going, I doubt if any industry can break even. The cost of production is high because of private power generation. We should know that the whole industrial revolution in Europe was when electricity was discovered. It became the engine of the continent. If there is electricity for 24 hours, in Port Harcourt, for example, you will have life and business going on till 12 midnight. This will rev the economy. Now, if you own a hair cut business, you cannot break even. By the time you burn generator, you know you are not in business. Michelin that employs 5, 000 people here moved away because of electricity. So, every government should look into such issue. Every year, big sum of money is injected into elephant projects; you ask why we can't get it right. As I said earlier, everything has its cause and effect; we must look for the reason, punish or reward, as the case may be. I am one of those who believed that there is powerful syndicate who don't want us to get out these things.
Unfortunately, we could not break away from generator mafia.
I heard that Nigeria is the highest generator importer in the world. So, there are those who are benefiting from generator importation and supplies. These people are in charge, directly or indirectly, with regard to power in the country. So, it comes as a milking cow. I heard that they would increase tariff. I was mad they came with bill for me to pay when we didn't have light for three weeks. I think that until we go back to the root of all these we won't have respite. Why is it that small countries, like Togo or Cameroun, can get it right? Ghana also has got it right. We are not punishing those not doing what they are supposed to do. In all parts of the world, if they set up such system, the money they are collecting will be ploughed back to the system. If there is a breakdown of transformer, the local NEPA could rally round and remedy it.
There have been bombings in the North and Boko Haram has been claiming responsibility. In the past, there was militancy in the Niger Delta. What could be responsible for this?
What's happening is a time bomb that will blow apart. Any country that wants peace should check crime, violence and invest in youths. Whenever I look at the streets and see children going to school, I shed tears for them. This is because government is not thinking for them. There are no statistics about them, whether they are 10, 000 or one million pupils, who are likely to pass out in elementary next year or in two years time or the ones that will enter secondary schools. What you see is the same patronage of political thugs. We have created a culture that makes people think they can make money without doing anything or getting money by going into violent; that's why you see what is going on.
Whether it's Boko Haram or militancy, the fundamental component of what is going on is youths' unemployment or poverty. It creates recruitment ground for a sizable proportion of those youths, who go in for all these things, because they are unemployed; they are poor. Every government should go extra mile in creating jobs; even half salaries will do something. If you employ five or six youths, it will reduce crime. One recent history, coming from North Africa, has shown that unemployed youths can explode and consume the leadership. Leaders should not take things for granted. The next generation will stand angrier than the previous one. If the youths cannot get jobs, they could be used in the wrong way.
What's is tour take on oil spillage, damages and compensation?
There is no compensation in these areas. Compensation is money given to someone you deprived of something. It could have put the person in a position he could have been if not for that interruption. If someone loses a car and you give him a bicycle, that is not a compensation. That's what happened in the Niger Delta. The oil companies sit down in Lagos and decide that if one coconut tree is damaged, we will pay N5, 000. For you to get N1, 000, it is for you to increase the number of coconut trees. So, the people are suffering; they are not given compensation. I feel there is a failure on the part of government to protect the people. Instead, the government has to protect the oil company. In all parts of the world, the government should stand for the people against external exploitation.
I attended a conference some years ago, and there was this sharp disagreement over a suggestion someone made about a proposal that some trust fund should be made for oil-producing communities, and there was a sharp disagreement from those of us from Africa and those from South Africa. Those from Africa advocated that such trust fund, as little as it may be, should not pass through government, but be controlled by the people. Those from South America said that it should pass through the government. I chaired the committee that was to reconcile that. We found out that in South-America, the government stands for the people against oil companies because, if they leave these communities, they would be cheated.
Here in Africa, the people believe that the government and the oil companies are against them; so they don't believe in their government. I believe that the environment is the first man's right. Before you can live, you will have a healthy environment, without which you cannot live, but when our environment is desecrated and polluted, lives are lost. Government is not sanctioning the companies; that is why they are operating they way they are.