Storytelling, interpretation bane of Nollywood -Njamah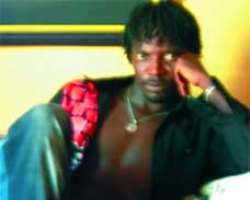 In Nigeria's movie industry, he is a role model to many. His face easily reminds viewers of the old days of a very famous soap opera 'Checkmate.' From his works so far, John Njamah can be regarded as one of the good hands the industry can offer. Njamah tells REPORTER, Ifeoma Meze in this interview the problem with Nollywood, why he has not been regular on the screens and other activities that currently occupy his attention. Excerpts:
When did you start your acting career?
I started acting a long time ago. My acting started during the days of a soap called Checkmate. Those were days of learning process. These days, I am on top of my game.
Did you get any formal training in acting before embarking on the career?
I started acting very early, in my secondary school days before I went to school to consolidate the talent I had or was told that I had. I went to Obafemi Awolowo University to study acting at first, but later majored in directing.
How has the career been?
It's been crazy. It's been a wonderful road to success. I had almost everything at my disposal. I had wonderful people; I had teachers and people that I was looking up to. I had opportunities and privileges. I had challenges and I guess these are the little ingredients that made me the person I am today.
At a point, you were not doing more of acting. It was like you disappeared from the screen and went behind the camera. Were you doing more of directing?
I am a kind of person that likes embracing challenges as they come. Yes, at a point, it wasn't just the movies. A few years back I was more into soaps as an actor and a director. I did the special edition of Super Story. I was in Izozo, Fuji House of Commotion and Bachelors. I directed Tempest, D8, Laugh Patterns. So, I needed a breather away from that norm we had then. Movies were everywhere and the stories were not forthcoming. The soaps were coming and they had good stories and they had longevity. For me, it has been a step at a time. Because I am an actor, a director and a writer, I need to satisfy other passions I have. Acting is just like a second nature to me. I was still acting.
You said something about the kind of stories that came with soaps and movies. Was it the reason you don't really feature more in short movies like you do in soaps?
No, if you invite me to do a movie, be it a movie or soap and your story is good, John Njamah will do it. For me, acting is not all about the money. Money will come when its time is due. I am more particular about the content of the movie than how much I am going to get from it. This is because one job recommends you for another that is how the job works. I am very much aware that I have numerous fans looking up to me. Taking this into consideration, I don't think I will want to do any sub-standard job.
Would you say we are moving in a positive direction or backwards in our movies?
We are not backwards. I am going to describe it as a passing phase. We are going through what I call a passing phase. It shall come to pass and we can only get better. We cannot go down because this is an industry that started from nowhere but going somewhere. If we don't have hitches in between, then something is wrong. Take for instance, Bollywood and Hollywood, they did not just start and shoot up like that. They drifted through rough roads. So, I guess, we are not any different and somehow, we are going to sort ourselves out. We are doing well. A lot of critics would say that Nigerian movie industry is going down, most of us shoot movies for grassroots. Most of our people shoot for-us by-us. Some will say we can't market these abroad. But why must we market our films abroad? There are some of us that shoot for festivals, for universal acceptance, but on the other hand there are some others that are doing things for us. So, we have different categories but the problem I have with people in terms of criticism is that they generalise the movie industry. They generalise the comedy and the drama and put them under one category. There are no bases for comparison because one is shooting for his people down there in Enugu or Asaba while the other person is shooting for different kinds of people. The latter knows he is going to take the movie to a festival, but we will eventually get there.
In getting better, do we have to work on the kind of stories we have, directing or with the actors and actresses?
A little bit of everything. Stories abound, but how do we tell the stories? Stories are not our problem, but how to tell the story is the problem, how to actualise it in terms of interpretation. Technically, we need to step up a bit, story wise, interpretations, from the director's point of view, implementation. I am not saying we are doing badly, few of us are doing well, but we need to make it a mutual competition. Not a competition of do-or-die affair. We need to understand ourselves. We need to learn from one another.
Is there much difference between acting and directing?
The difference is very big. From my point of view, as an actor and director, there is a big difference. The director has more work to do than the actor. The director is like the painter. He paints the movie, using actors, costumiers and actresses ultimately on what comes out. Directing, for me, is more challenging.
Any particular reason you choose directing?
I think it got to a point in time in my career that I felt that I had seen enough of acting. I had done plays with a large crowd. I had done plays that we called two handlers and so I needed to do something else, something different. To a large extent, it was Ola Rotimi that got me into directing. I was his student, and as my lecturer, and because of the rapport we had, he gradually pulled me into directing and it has never been a bad idea.
What are the challenges that come with directing since the responsibility is quite different from acting?
It has been crazy. I am very good at understanding people, which is basically what a director should. You need to know when your actors are at their peak. You need to know when they are not forthcoming with anything. You need to know when to make them relax and know when not to shout. The challenges of trying to calm everybody and trying to be calm whenever things go wrong is another challenging attribute of a director. You need to know when not to lose your cool, because everybody depends on you. If you are very aggressive, it will tell. The director is a leader and a teacher. The director should be like a brother and sister to his cast. These are the qualities a director should have and it is not a very easy task. First and foremost, you have to understand what to do as a director because understanding what to do gives you that authority. You need to be an authority in that chosen field otherwise you might not be in control. You need to understand a little bit of everybody's work. Right from the cameraman, to the lightening, to the floor manager, the sounds, the costumier down to the simplest area of the cast. Not being a master of everything, but a little bit of everything.
Do you think every director should go through the four walls of a university to be a professional in the field?
If not the four walls of a university, they should go through trainings. It is very important. It starts with the passion about what you are doing, then follow it up with tutelage. You need to learn more about what you are doing. Some people learn on the job, good, but you need education, workshops, symposia and programmes to empower you.
Are there other talents you have aside acting, directing and writing that you are not paying much attention to?
I dance also. Dance is also a profession, but I think I am satisfied with acting and directing. It is just a few people that know I dance. I danced a lot in school. You cannot be focused in three, four or five things. That is why I said earlier that I had to do a little of acting, so I can focus on my directing. Who knows, maybe, tomorrow I chill a bit from directing and maybe do a little bit of dancing. I still act and direct as well. It all boils down to the percentage I am putting in each.
How much of writing are you doing?
The next movie I am going to direct is written by me. I don't want to disclose the title yet.
What projects are you working on presently?
I am presently acting in a movie called School. It is a soap opera, a story about a law student in the university. In few days time, I will be moving to Abeokuta to shoot a sitcom titled Living in Lagos, where I will be directing, not acting.
How many single movies have you directed?
Quite a few. I directed Hell Bound, Dusty Life, Waiting Years.
In some movies, certain top actors are only assigned major roles. Do you repeat faces of well-known actors in your different movies or introduce new faces?
It is not faces that matter, but what you can do. Your ability as an actor is what matters. I don't care if you have been in lots of movies. Whatever the case, I am going to make you different in my movie. Yes, I like giving upcoming actor's opportunity to express themselves. If you are good and you fit the profile of what I want I will use the person. In Living in Lagos sitcom, I am working with 85 percent 'green.' By green, I mean they are not superstars. They have the talents and I want to explore the talents in them.
I like working with actors and not with stars, because when you begin to categorise yourself as a superstar, it is a problem. There is something attached to that superstar. If you consider yourself as an actor, I will work with you, because there is a problem when you consider yourself a superstar and that you cannot do that minor role. Then my question to such person is 'how did you start your acting career?'
How would you compare acting when you started and the current situation?
It has been a tremendous progression. Now is better than then. We tell our stories better than we told our stories then. Of course, the acceptance now is better than then, there is a growth.
But Checkmate sold?
It is funny comparing a soap opera done few years ago to the ones done in recent times. Yes, it means that we are not able to meet that challenge we had then. I think it was because Checkmate was extremely successful. We have a few successful soaps now, but if you use Checkmate as a yardstick, you will have a problem.
Is there any misconception people have about you?
Yes, a few years back. I don't know if it is still on. People saw me then as a snub, but that impression is wrong. I am a very fun-loving person.