actress MONALISA CHINDA/hubby divorce tales gets messier!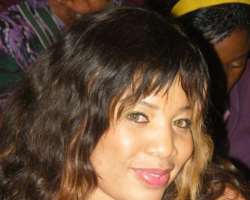 love gone sour-- monalisa and estranged hubby--na wah
-the hubby has granted an interview running down his estranged wife and
crooner mr kool(monalisas uncle),actress rita dominc and genevieve nnaji.
it has been revealed that one of the reasons that sent monalisa running for her life,was that her estranged hubby used to panel beat her like a damaged car.
infact the last glo ambassadors trip to south africa,the actress arrived the venue with large bruises all over her body and in tears she confirmed that she had been 'panel-beaten beyond her wildest dreams'.
the estranged,embittered hubby segun dejo says that rita dominic is the reason his wife has left him.
mr kool has granted his own response where he leaked a can of worms on the estranged hubby and he has begged that he be warned or else he will leak the rest.
monalisa is presently holed up in the house of her best friend,producer emem isong!.
lets see how this drama will unfold.
-Stella DK