MAXIM OUT WITH A BANGING SINGLE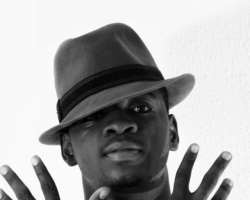 With systematic climbing of the ladder that leads to fame in the entertainment industry via persistent, consistent and hardwork, Adebola Oluwaseun a.k.a Maxim seem to gradually cutting a niche for himself in the highly populated industry.
After his first single release in 2007, he has become the toast of mamny fans out there especially those who want good music, orchestrated by potent message, melodious rhythm and well arranged coordination.
He has been opportune to perform alongside the big shots in the industry at different forum, and this time around he has a new single titled " Fun mi laye" meaning (give me chance), the track has been enjoying massive airplay in the last weeks.
With lots of shows, performances and endorsement lined before him, he looks set to make his mark in the industry.
Maxim opened up on so many things including his other extra-curricular activities beyond singing, please, enjoy.
(1) Can we meet you once more?
Ans- My Name is Oluwaseun Adebola
(2) What is your background like before venturing into music?
Ans- I have always loved music so I have been into music for a while but I really wanted to become a doctor before I discovered I can really do this.
(3) With your sciences background, why the choice of music?
Ans- I studied physics for my love for calculations but I have passion for music and decided to make good use of it since it is a God-given talent.
(4) Did your parents approve of your dumping your course for music?
Ans- I am not dumping my course, it is not just in my plan for now.
(5) How will you personally describe your music?
Ans- RnB/Pop. That is my style.
(6) Quite a lot of people seem to love your unique style and the niche you are gradually cutting for yourself, but others feel that you should just do the normal dance hall (gbodomi) song, so that you can earn more popularity, what's your take on this?
Ans- The whole industry has gotten so competitive especially due to the need for commerciality but all the same it's good to have messages that your song passes across. I believe in good music and commerciality at the same time, so I think balance is just the key.
(7) What is this fuss about your latest single (Fun mi laye) why is that everybody is talking about it?
Ans- Basically, I think it is because it is highly commercial and passes a message at the same time.
(8) As the meaning connotes in Yoruba language, are you invariably sounding notes of warning to people saying that this is your time?
Ans- nooooo, Only God knows the time, it is actually a prayer to God.
(9) So what makes your music different from other songs out there?
Ans-Good Rhythm, message and simplicity.

(10)Having enjoyed massive airplay on your tracks (Rise Up, Perfect Weather and Loving You in the last two years) what should we expect from your new hit "Fun mi laye"?
Ans- I believe it is going to get even better, everything is in God's hands.

(11)When are you finally going to drop the video and your album?
Ans- Last quarter of this year by Gods Grace

(12)Tell us about the Maxim Movement on facebook, you seem to be having a lot of fans identifying with you.
Ans- It is just a place where my fans can relate with me, know what is next and feel free to ask any questions.
(13)You have been listed for couples of shows coming up in the next few months including Cool B Album launch, Artistes Zone Blue Party, G.T Guitar Man Album Gig, Rugged Man Show etc, what should your fans expect from you?
Ans- Nothing but the best. We are gradually cutting a niche out there, i know it takes time but we will get there, where people can listen to music as in real music not just sound that fills the air and evaporate after some time without even a recall to them.
(14)You seem to be showing a lot of versatility these days. Tell us about the entertainment programmes you present and produce with Bisi Olatilo Show?
Ans- I present a show called Groove theory and co, also I produce Lunch Wheel on Biscon World, and you know Biscon World is on HITV and everywhere you can think of.
(15)So, now, what is your take on the state of the music industry in NAIJA?
Ans- It is really getting better and I know we are approaching the state where only good music will be celebrated. It is only then and then that we will separate the boys from the men.
(16)Where do you see yourself in the next five years?
Ans- Still waxing strong in the industry and also doing some other things I would not like to reveal now.
(17)How has it been trying to cope with the hazard and the seeming hurdles in the industry couple with the fact that you don't want to just do anything in the name of song?
Ans- Persistence, patience and focus are my weapons, I guess it keeps us going, we will get there.
(18)Share with us your most embarrassing moment ever since you started singing.
Ans- About three years ago, I went for a show, an open roof show and while I was singing it started raining heavily and of course I can leave the stage, I have to complete my performance. That really suck but it was a learning process and I think I am better with it.
(19)Do u have any favourite colour?

Ans- Blue

(20)So, if you are not producing or writing songs or in the studio, what else do you do at your leisure?
Ans- Reading


(21)So, what's your definition of fashion?

Ans- Simplicity and comfort

(22)As a handsome looking dude, how have you been handling your female fans?
Ans- They makes the world go round so I guess nicely.
Compiled by Alayande Stephen T.