KOK Berates Edochie's Abductors - As AGN's Plan To Suspend Asiegbu Thickens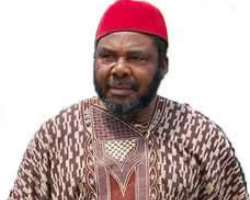 Pete EdochieKanayo O Kanayo (KOK), acting president of the Actors Guild of Nigeria (AGN), has condemned the kidnappers of popular actor, Pete Edochie, who was abducted in Onitsha on Sunday and later freed Monday evening.
He also commended the efforts of the Anambra State governor, Peter Obi, who, together with security operatives, was able to secure the release of Edochie who was found in good condition.
KOK, while thanking God for saving Edochie, noted that actors in the country are goodwill ambassadors and the public or the aggrieved youths should not see them as vessels to vent their anger on. He enjoined Nigerian youth to be good representatives of the country and stop the act of kidnapping which does no good to the image of the country except to destroy it further before the outside world.
Commenting on the rumoursthat Ejike Asiegbu plans to arrest him and his cohorts for forcefully taking possession of the secretariat, KOK said if Asiegbu thought he has any case, then he should go to court.
He also advised the embattled fromer national president to stop spending money on the police.
He assured members of AGN that his interim government would ensure that actors get a lift for the better in their chosen career while also calling on members to show more commitment towards the development of the industry.
The actor, who disclosed this when reacting to the complaints of job loss by actors and the dwindling sales of movies in the industry, said "it was a task for Nollywood as a union of the different guilds to think about what we were going to do. What I know is that the actors who are the brands of Nollywood are not working and that calls for serious concern. This is why I will tell you that anybody who stops the flow of capital into an economy, society or country, is an enemy and this is why we are telling Asiegbu at this point to swallow his pride and let actors move forward.
"If there is a foreign investment coming from America or somewhere and somebody, or an entity, and somebody is stopping it from flowing into Nigeria because of ravaging crisis, such a person is an enemy of Nigeria.
"Right now, there is a kind of stagnation in the industry, there are no jobs. Our division is causing us more harms and the actors are lamenting. The house has, therefore, resolved to suspend Aseigbu for anti-guild activities," he stated.
He noted that the house will probe the last administration for the alleged misappropriation of fund but that it's not in their immediate arrangement.