Aso ebi bug still biting hard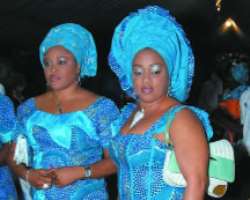 The bug of the uniformity also known as aso-ebi that has been biting women is still biting even sronger and harder. You think the idea is coming down, you are surprised tom see the stylish ways these aso-ebi are worn especially by the women folk.
It has come to stay in the sense that at the obscure ceremony, uniformity surrounds the arena. Wearers tells you ;that is the only way you can belong and associate with the group. Some even have a funny idea, so you can mingle very well and receive all the souveniers.
One thing you cannot remove your prying eyes from is the ever stylish and trendy cuts you catch on socialites who wear aso-ebi.
These aso-ebi has become so compulsory that any one who wants to celebrate would want to beat the set records of a former party. They look for rich and beautiful ankara that would remain the talk of the town.
Princess Latifat Lamoliate who runs a fashion outfit 'Ravissantmode' came in a combination of her aso-ebi combined with feathers. She stood out in her own way. Enters Grace Egbagbe with her aso-ebi combined with black chiffon, she came in gracefully.
When these women step out in their aso-ebi with well made-up faces, matching accessories of various designs and different fragrances, you cannot but admire the beauty, elegance and aesthesy. So follow the trend and join in the aso-ebi bug and get noticed at that event.