EAGLES NEED EXPERIENCED PLAYERS -YOBO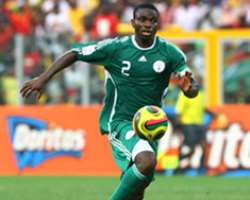 • Yobo
Super Eagles captain and Fenerbache of Turkey defender, Joseph Yobo, has stated that inexperience on the part of some players is one of the major challenges facing the Nigerian team. In this interview, the former Olympique de Marseille of France defender also blames the team's woes on the ill treatment meted to the generation of the Sunday Oliseh-led squad.
Players' commitment
I don't really think we are more committed to our respective clubs than the national team. The main problem we have is that we don't usually have enough time to train together. In most cases, we struggle to understand one another. Again, we sometimes play under hostile conditions, especially when we play in Abuja.
Most times, we play against some African teams who are used to this weather and when they come here, the weather factor would make it look as if they were at home while we were playing away. Don't forget that most of us are based abroad even though we were born in Nigeria. Though people don't accept that as an excuse, I want to appeal that we should give the same character and commitment we give to our clubs under any circumstances. I know we are trying our best, but we have to improve on it. I just want Nigerians to know that we understand their feelings, but I want to also tell them that we are not intentionally trying to disappoint them. We will continue to improve.
Parley with Gyan after the friendly against Ghana in London
He was expressing disappointment at our failure to make the Nations Cup. He felt the pain and admitted that he was shocked that Nigeria would not be in the tournament. He felt bad, but I know that they will all be happy that we will not be there because they know we would have given them a serious challenge. However, it was good to have people genuinely concerned about our situation despite the competition among us.
Big names missing in Nations Cup
It is difficult to say whether the absence of the big football nations would be a blessing in disguise to the smaller ones. I think there might be surprises, but if we want to pick the favourite for the trophy, I think Ghana and Guinea would likely be there. The only advice I want to give them is that they should not underrate any of the teams.
Sacrificing Siasia for the players' sins
It is a very tough question to answer because I'm not the FA who gave him the job. They know who to employ and when to change him, but it is painful that in the words of Chinua Achebe, uneasy lies the head that wears a crown. It is like the father of a family who takes the blame for his undisciplined kids because people will accuse him of not raising the kids very well.
The sack of Siasia is one of those things that happen in life. As the captain of the team, people always blame me whenever things go wrong with the team. When you are in charge of something, even in running a company, whenever things go wrong, it is the head who takes the blame and pays the ultimate price.
It is a tradition in the game of football, even at the club level. It is not really new for the coaches to be sacrificed when the results are not favourable to the team. It is painful that the coach will always be fired.
Worries over Fenebahce's deal with Everton
Of course, it was disappointing and I felt bad about the whole situation. But I understood what Fener was going through then. The club was my first choice, irrespective of other clubs wanting to sign me because my family and myself were all happy there.
I was well received there and I put my injury problems behind me. I was really happy in Turkey that I signed a three-year-deal, but the club's problem, in addition to what I want to achieve with my British passport, forced me to opt for a one-year loan deal when it was time to finalise the transfer.
We have to compromise many things but essentially, I was glad that it finally went through even as I wished it had happened earlier. I don't have any regrets joining Fener because we are just starting the new season. We have played 10 games and we are leading the league table.
One of the challenges we faced this season was the ban on men, but it was just for two matches. It was however an opportunity for the children and women to come close to the team. The good thing is that they were amazed to be parts of the team.
Bidding final goodbye to Everton
Everton is still my parent club even though Fenebarhce still has the first option to buy me, but I'm happy to be a part of the club. I know they wanted me to stay and I wanted to also stay, but there are other certain things that need to be done before the deal could be finalised.
I just hope the issue is sorted out because I'm very happy in Turkey. I hope I won't go back to Everton even though there is nothing bad in going back there because without Everton, there would not have been Joseph Yobo. I still respect them and will be willing to give them my best if I go back.
The crumbling world of Nigerian football
I won't want to admit that Nigerian football is crumbling because sometimes this setback makes a team come back strongly. It is the same situation in the Eagles squad. Yes, we did not qualify, we felt the pain but we have another opportunity to fix the mistakes.
We would not have learnt any lessons if we did not make mistakes. The obvious truth is that we are going to live with the pain of missing this ticket throughout our career. We are only happy with the fresh opportunity provided to us to correct our mistakes. We can't afford to let this opportunity slip out of our hands again. It is the same thing with the Super Falcons and other national teams. If we did not make this mistake, we would not have learnt. It shows that we are actually better than what we are.
Yakubu Aiyegbeni's move to Blackburn
I'm always talking to him and I can tell you that the Yak is always going to be the Yak. He is the kind of player that we need to understand because as a defender I played against him everyday in training. So, I know him inside out and what he is capable of offering. I can tell you that Yak is a special player.
Obviously, I'm happy for him joining Blackburn even though we expected it when we went back to Goodison Park at the beginning of this season. The difficulty we have is that people don't know the kind of problems we pass through playing football. They would always make such comments, as 'you are finished' and all those stuff. I'm therefore happy that he challenged himself to show people that he can still do it. He is a very good player.
Yak's return to Super Eagles
I hope and I will be glad if he returns but it is left for the coaches and team officials to decide. As for the captain of the national team, I want all the best players back inasmuch as they are doing well at their clubs. We want to bring back the glorious days. Since we did not qualify for the next year's Nations Cup, our first responsibility would be to make it to the South African 2013 edition.
Therefore, whatever we have to do to make it possible must be done. The officials must exploit every opportunity and decide who they want to invite, but I think that at this stage, we have to consider players with more experience who can take up responsibilities because it is not every player that can take up responsibilities.
If my opinion will count, I would say that it is good to bring back the experienced players to balance the younger and older players. It is wrong to assemble only experienced or young players alone. We have to blend them. I want to, however, repeat that we need more players who can take charge. We need experienced players to share the blame, and not necessarily heaping it on Yobo alone.
I think this is one of the things currently lacking in the team. When I joined Super Eagles, I saw men who took up responsibilities; men who want people to know that they are in the team and who understand why they are there. They stayed together for a long time but sadly, they wiped out that generation of players and the team, including Sunday Oliseh and his set. For me, that was when the Super Eagles started struggling. So, having the experienced players back in the Eagles fold, especially attackers, would bring a lifeline to the team.
This is a personal view and it is left for the officials to decide who gets the invitation or not. I just want to concentrate and remain in my game. We are really disappointed with our failure to qualify for the Nations Cup. I want to assure Nigerians that we will not fail them again.
Missing Siasia
Everybody have their own uniqueness. Having worked with him, I have to give credit to him. He did his job and clearly understood where he was going, but unfortunately, he didn't get there.