Power tussle in Nollywood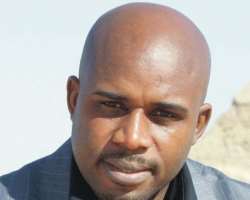 I want to express my disappointment over the current happenings in Nollywood. The sector is now characterized by rudeness, power games, lack of respect and endless fight for positions. The Directors' Guild executives were dissolved since June and the past President Bond has refused to call election until he got an Election committee he could manipulate.
But thank God he has now called the election, which he knows he must win to continue his one-man show. As an active BOT, I have called him several times and he never cared to reply. That is how rude and power drunk these boys can be, he wants to continue his second term and if possible have a third term.
There are others who want to challenge him but they are not given fair chance to do so. The AGN is a big story that refuses to go away. The so called sit tight President of Actors guild can't see himself losing the car, office and the name Presido. So what is the answer, Fight to finish. Here is a man who has overstayed, who said he borrowed N15milion to renovate the beer parlour they call secretariat, with nobody's permission, or consent.
The Actors too are to blame they allowed their integrity to be undermined by fake constitution like the Nigerian 1999 constitution. The big bad Presido barks, kicks, threats and gives
laws he does not understand and everybody obeys. It was Alagbon today, Ikeja tomorrow. The poor Policemen and courts are so fed up with the artists who were behaving like dirty politicians. I was invited by the chairman of the Caretaker Committee to help reconcile the warring parties only to end up spending five hours at the Iponri Police Station. The Assistant Commissioner of Police Zone C pleaded for peace while Asiegbu and Iroegbu were busy singing war songs.
The poor man had to warn them that he has a cell that can contain them. He preached in Islamic and Christian languages for peace, but Asiegbu won't burge. Finally I was again hijacked to broker peace with Zeb Ejiro OON, Asiegbu was to pick three of his own men and K.O.K to pick his own. Zeb agreed to go for the peace meeting, But knowing these men, I excused myself and took the usual OKADA to escape the VOX, Barracks and Okoko traffic jams. Now people are being picked up daily to Alagbon and Okoya, while cash is being wasted for transport, logistics and honoraria. All these cash being wasted on threats could have been used for a better cause. Up till date, every agreement reached at reconciliation meetings are never kept.
Pete Edochie, O'jez Chairman, Eddie Ugbomah etc can solve the power game by the self centered sycophants who are drawing the hands of the advancement of Nollywood backwards. I suggest we allow Ejike to organize the election, he must be a candidate, I know he will like to plant a stooge. Dickson, Emeka, Ogundegbe and others can look somewhere else to avoid trouble. If the Directors' Guild hold their promised election, Ejike is allowed to hold his Kangaroo election, then the AMP landslide election is rectified, we will then move the dying Nollywood forward.
Last week the AMP election was held as arranged. The letter of Teco Benson resign action came two hours into the election. Some members of the Electoral Committee also resigned when it was too late. Teco Benson was deceived into dropping out from a fair fight he could have won. The sad part of the Producers election was that it was full of forgery, voters' misinformation, doubtful accounting report etc.
The blame as usual goes to the bad followers. The former AMP executive worked closes with Paul and stopped complaining. Paul wouldn't have had a kitchen cabinet as they accuse him. Meetings are called for noon, they turn up 3pm everybody is busy submitting cash requests for jobs not done. The President is busy talking and dreaming big, doing what he thinks is better for AMP. I seriously blame Teco to have waited until the Election Day before withdrawing. This left the Electoral Chairman Mathias with no alternative than to carry on and forget all the agonies of planning the election.
The AMPEC members too are no better, they allowed YEYE to frighten them away from the Services they were invited to render for the growth of the industry. Now they are so childish with the ill- advised letter of libel. A simple matter that I dropped my traveling to settle after holding meetings with Teco and Paul. My worry is that I don't know what these men get from the Presidency of these Guilds, that they are willing to damage, injure and even kill just to win the Guild's Presidency. Paul has always won elections while his opponents walk out in the last minutes. I expected Teco Benson to stand in firm and slug out the fight to lose or win honourably.
What can a poor BOT do with a bad situation? I want to thank the DPO of Iponri and his men who maintained peace during the election. The entire event was recorded for posterity and references incase of false claims and statements. The Head of Lagos branch of the Nigerian Film Corporation Mrs Duro Oni, stood firm, made sure peace was maintained. My advice to all these power and position seekers is that their terms are limited to a maximum of four years.
But for the BOT Board of Trustees, they are there in AMP for life. I just wish Paul is allowed to complete his second term and fulfill half of his promises. I don't see what anybody will lose if Teco or Paul wins. I can't remember what Madu left behind than the problems we are experiencing now. Power game in Nigeria is so bad that these Movie Guilds Presidos must be making something that forces them to fight tooth and nail for elections. There are so many instigators in these Guilds but when bills or cases come out they are no-where to be found. These men must all swallow their pride and let us move forward. Those making money by carrying false stories should stop, the people claiming the Guild Presidency is their birthright should think again so that we can move forward.