French Foreign Minister In Nigeria To Discuss Terrorism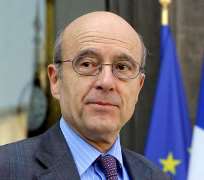 French Foreign Minister Alain Juppe arrived in Nigeria on Friday for a visit to include talks on cooperating to fight terrorism, with the West African nation hit by scores of recent attacks.
Juppe was to meet President Goodluck Jonathan and Foreign Minister Olugbenga Ashiru, as well as travel to Kano, the biggest city in the mainly Muslim north of Africa's most populous nation and largest oil producer, before departing Saturday.
After arriving Friday, Juppe attended a dinner along with Ashiru, business leaders and foreign envoys, and he condemned last week's coordinated bombings and shootings in northeastern Nigeria that killed some 150 people.
"The terrorist attacks in Damaturu and Maiduguri claimed by Boko Haram are appalling, barbaric acts," he said, referring to the Islamist group which has also claimed an August suicide bombing of UN headquarters in Abuja that killed 24 and many other acts of violence.
"The terrorism and fanaticism that provoked these terrible acts are incompatible with our values."
Juppe told French radio this week that his country was prepared to cooperate with Nigeria on intelligence.
There has been intense speculation over whether Boko Haram has formed links with outside extremist groups, including Al-Qaeda's north African branch.
Nigeria is also France's biggest trade partner in sub-Saharan Africa, Juppe said, with French oil giant Total among the major producers of crude in the country.
Juppe is expected to attend the signing of a financing deal for a French development agency project involving public transport in the economic capital Lagos worth $100 million during the visit.
Nigeria is a powerhouse in the West African region, often supplying troops for peacekeeping missions. It is currently a member of the UN Security Council and holds the chairmanship of the 15-nation Economic Community of West African States.
Juppe's trip comes on the heels of a visit to South Africa.
AFP.