Alleged Purchase of 20m Euro Vienna Mansion: Alison-Madueke Responds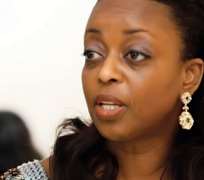 …. Says Story is Idle Gossip
SAN FRANCISCO, November 11, (THEWILL) – In a statement issued Friday, Nigeria's controversial Petroleum Resources Minister, Mrs. Diezani Alison-Madueke refuted allegations in some online news media (minus THEWILL) that she purchased a 20m euro mansion in the Austrian capital of Vienna.
The Group General Manager, Group Public Affairs Division of the Nigerian National Petroleum Corporation, NNPC, Dr. Levi Ajuonuma said, "no right thinking news medium would fall for such cheap and unsubstantiated rumour peddling.
"As professionals, we know that comment is free but facts are sacred. Now if you are saying in this age and time that somebody bought a 20m euro mansion in a very conservative city like Vienna, then you must be able to produce the picture of the so called mansion, the transfer wire number for the said purchase, as well as other details of the transaction. 20m euro is no small money anywhere in the world,'' Ajuonuma stated.
He recalled that a similar unsubstantiated story was culled from the Jakarta Post and spread by the online news media in September accusing the NNPC and the Ministry of Petroleum Resources of planning to invest in a multibillion-naira refinery project in Indonesia.
"Interestingly when the Jakarta Post retracted their phantom story and apologised on front page to the NNPC for the fake story, the online media never bothered to publish same because they are usually not interested in facts," he said.
He implored newspaper editors and gate keepers to fact check news stories from foreign tabloids and online media in good time for publication.
"With the aid of forensic accounting, it doesn't take rocket science to track any financial transaction. You cannot conduct a 20million euro deal anywhere in the world, without attracting red flag from relevant international agencies, '' he said.
Ajuonuma assured that the Minister of Petroleum Resources is not perturbed by such publications, noting that the focus now is on ensuring the full activation of President Goodluck Ebele Jonathan's administration Transformation Agenda in the oil and gas industry.
A Nigerian blogger residing in Austria, Uzoma Ahamefula had a few days ago written that a free local paper in Austria 'Haute' had published that the Minister acquired the said property near the residence of a former Petroleum Minister, Dr. Rilwanu Lukman.
Haute claimed that it got its bogus story from the Nigerian media, which to our knowlegde has not published any of such.
Uzoma wrote thus, "Mr. President Sir and Fellow Nigerians, it is yet another shame of insult in far away Vienna, Austria, Europe. According to a shocking bomb revelation by a free daily newspaper in Vienna, Austria called "Heute", there is a secret mansion villa worth 20 million euro bought by the current oil minister Mrs Allison Madueke. The headline reads " Ministerin aus Hungerland Kauft sich 20-Millonen-Villa in Wien" (Female Minister From Hungerland Buys Herself 20 Million Euro Villa In Vienna). As provoking and insulting as this headline yet I have been forced to swallow my pride to say that I am very grateful to "Heute" for the exposure of this unpatriotic display of the oil minister because her behavior is more provoking and insulting than the headline.
"Here is the full translated version of the above text as reported by the newspaper:
"Big turbulence about the Nigerian Oil Minister Diezani Allison-Madueke (50)! According to Nigerian media the politician is said to have bought a villa in Vienna for just under 20 Million Euro – even though a major part of the population in her home country is living below the poverty line and children are dying daily of starvation. The exact location of her luxury lodging is secret, but Allison-Madueke is enthusiastic about the big garden and the estate referring to it in the internet as "architectonic masterpiece". One of her neighbors is said to be former OPEC boss Rilwanu Lukman who is also from Nigeria."
"The "Heute" newspaper said that their news was taken from Nigerian media and I have tried to google such news without success. However, I trust them because they are civilized and cannot publish such damaging news like this one without being sure. Consequently oil minister, we are expecting you to challenge the newspaper in court and restore your dignity if you say it is not true or bow out from that position peacefully…..".