Borno Election Tribunal Unbanned, Gets Order To Deliver Verdict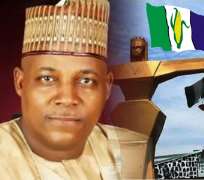 …As Acting President Of The Court Of Appeal Adamu Reverses Self On Earlier Dissolution Order
ABUJA, November 11, (THEWILL) - The Acting President of the Court of Appeal Justice Dalhatu Adamu Friday directed the Borno State Electoral Tribunal to deliver its verdict in the petition challenging the victory of Governor Kassim Shettima of the All Nigeria Peoples Party (ANPP).
Justice Adamu, who only yesterday under questionable circumstances suddenly dissolved the tribunal a few minutes before it could deliver judgement in the petition filed by the Peoples Democratic Party (PDP) and its governorship candidate, Alhaji Mohammed Goni, made a u-turn after a protest letter by the Borno State Governor through his counsel, Dr. Alex Iziyon SAN and criticisms from the public.
The panel has a Sunday deadline to deliver its verdict as that is when its tenure expires according to the provisions of the Electoral Act. The Act stipulates 180 days for hearing and delivery of judgement for Electoral Tribunals.
Iziyon in the letter to the Acting President of the Court of Appeal had brought the attention of the Acting President to an earlier ruling of the Supreme Court which ordered the Tribunal to deliver its verdict, having dismissed an appeal by Goni and the PDP to disband the electoral panel.
"What is more? Appeal No. SC / 352/ 2011 by the Petitioners at the Supreme Court was dismissed. In the said appeal, they had invited the Supreme Court to invoke all its powers under Section 22 of the Supreme Court Act to hear the appeal as that of the Court of Appeal, Jos Division. One of the reliefs before the Court of Appeal is the disbandment of the panel and a new panel being set up. Now that the appeal No. SC/452/2011 was dismissed, that relief goes with it. How can it now be granted administratively?
"My lord, we are sure you are not aware of the above scenario. The administrative order to dissolve the panel is a clear violation of the Supreme Court Order at Page 43 of the Judgment as stated above.
"The administrative order amounts to an arrest of a ruling or judgment which the Supreme Court in allowing the Appeal No. SC / 352/ 2011 and SC/352/2011 deprecated the Court of Appeal, Jos Division for arresting the pending ruling.
"With the greatest respect, this administrative order, contrary to the order of the Supreme Court that the same panel should continue where it stopped and where it stopped was at the verge of delivering a ruling amounts to another arrest of the said ruling.
"We therefore urge your lordship to dissolve the new panel as that will be a violation of Order of the Supreme Court and indeed sheer contempt," Iziyon said in the letter.
With the new directive, the panel is expected to deliver its ruling tomorrow (Saturday) or on Sunday.