Ghanaian Celebritries To Meet Fans In Italy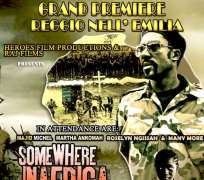 The producer of the Movie title "Somewhere in Africa" has already promised movie fans that his production house is going to have a world tour with the movie before its release into the market.
The movie which has already topped movie awards like The NAFC Awards and ZAFAA Awards is set to premiere in Italy on 19th and 20th of November in"Liceo Scientifico Leonardo" Via Balestrieri 6, 25124 Bresci "Centro Internazionale Luigi Malaguzzi" Via Bligny, 1, 42124 Reggio nell'Emilia.
Movie stars who are set to grace the red carpet on that day are; Majid Michel, Roselyn Ngissah, Martha Ankomah, Kwame Boadu and Eddie Nartey.Frank Rajah Etc
In a chat with the producer Kwame Boadu, he revealed to NigeriaFilms.com that although no Ghanaian producer has premiered any major or commercial movies in Italy yet he believes with the response he his getting from movie fans there he has to pay attention and decided it's the place to release this major movie premier.
"I will say the movie is not coming to the market now so anyone who has the opportunity to see it will not regret it "he added.