BAYELSA LIST: SYLVA LOSES AGAIN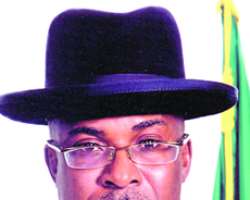 Hopes of the Bayelsa Governor, Timipre Sylva to get the go-ahead to contest for the governorship ticket were again dashed by the Peoples Democratic Party (PDP) National Working Committee (NWC) yesterday.
Despite the entreaties of PDP governors and a follow-up meeting by the South-south governors to prevail on President Goodluck Jonathan to allow the embattled governor contest the party's governorship primary slated for November 19, the party's door appears permanently shut against Governor Sylva.
His name was again missing on the list of aspirants cleared for the primary by the PDP NWC. National Publicity Secretary of the party, Prof. Rufai Ahmed Alkali in a statement made available to journalists yesterday released names of three additional aspirants cleared for the November 19 exercise.
The names were, Doukpala Francis Amaebi, Ekiyegha Fred Korobido and Austin Febo. The new names increased to seven the aspirants cleared for the governorship primary. Those cleared last week were Henry Seriake-Dickson, Oruta Justine Boloubo, Enai Christopher Fullpower and Kalango Michael Youppele.
The 13-member appeal screening panel headed by former Ekiti State deputy governor, Biodun Olujimi had acted on a petition it acknowledged it received from Oracle Law Firm against Governor Timipre Sylva, alleging 'acts of threats to national security, treasonable felonies and anti-party activities, leveled against Chief Timipre Sylva.' The panel had therefore advised the party elders to decide on the fate of Governor Sylva.
Also in its statement yesterday, the PDP NWC reacted to insinuations that it collected money from certain aspirants ahead of the Bayelsa governorship primary and warned that it would take actions against those behind the rumour. Part of the statement reads:
'Meanwhile, the NWC wishes to warn all those involved in rumour mongering, especially those peddling unfounded allegations against the national leadership of the party to desist from such acts forthwith or face disciplinary action.
'This warning has become necessary in view of mischievious and slanderous media reports accusing leaders of the party of collecting various sums of money from aspirants.
'For the records, those rumours are false in their entirety. The NWC under the leadership of Alhaji Abubakar Kawu Baraje is deeply committed to due process and the rule of law and no amount of mudslinging, intimidation and blackmail will divert our attention from this noble course.
'Once again, we call on all our members in Bayelsa State to remain calm and focused and not allow any desperate political elements to cause division within their ranks.''