LG POLLS: BODE GEORGE MADE US LOSE LAGOS -OGUNLEWE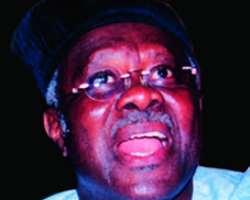 Weeks after the conclusion of the controversial Local Government election in Lagos State, a silent war may have broken out between former works minister, Senator Adeseye Ogunlewe and former Peoples Democratic Party (PDP), Chief Olabode George.
Reviewing the election in an exclusive interview with Daily Sun, Ogunlewe lamented that despite collecting a whooping N50 million to prosecute the polls, George misapplied the money. 'They (PDP), gave Bode George N50 million to share to the contestants, he gave the money to his leaders, and they didn't give the money to the candidates. All they gave them was N200,000 and that was the cause of his problem, because so many of the candidates are not happy with him,' he said.
According to him, this was what led to the aggression within the party, and why the former chairman of Nigerian Ports Authority (NPA) cleverly organized a protest on the outcome of the election. 'You chop the money, then you are now protesting, are you not the one that has shot yourself in the foot?, he queried.
Tracing how the Lagos PDP participated in the election, Ogunlewe stressed that he personally went to Abuja to impress it on PDP national secretary, and other party leaders that the party must participate in the polls.
It was the leadership of the party (Lagos PDP) that were orchestrating the boycott. They will get money from Bola Tinubu, get to Abuja and tell them we are not prepared,' he claimed. Continuing, the former works minister maintained that but for misapplication of funds by George, the PDP would have done far better in the Lagos Council election.
'He chop the money. That is always his characteristic. The man is a trickster and that is his stock-in-trade. I know him very well,' he declared.
Continuing, the former Senator rubbished George's threat that the party may expel him, saying the PDP leader has no such legal authority. According to him, the issue should be other way round as it was George that was more or less a burden to the party. Said he: 'He was jailed for corruption involving N80 billion. That is not a small money and the Reverend told him 'go and sin no more' and he has continued to sin. He has problem and his problem is called prison insanity.'
Reacting to the allegation, George who was peeved by Ogunlewe's comments, said the former minister needed psychiatric help. According to him, disbursements of funds for the local government polls was done by the Lagos PDP leadership and not himself, asking Daily Sun to verify. The former PDP deputy national chairman said he was too busy to discuss Ogunlewe, as the allegations lacked merit.